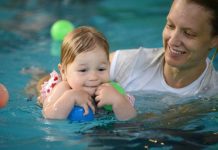 BABIES and pre-schoolers who learn to swim reach developmental milestones ahead of land-restricted peers, according to a study involving local children. Griffith University researchers included...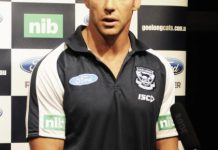 CONCERN over brain injuries from concussions could finish an AFL player's career, Geelong Cats assistant coach Dale Amos has conceded. But Amos said he believed...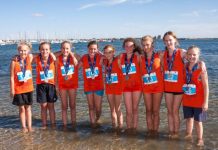 GEELONG Multisport Festival attracted more than 3000 participants over an "extremely successful" three days, according to organisers. USM Events' Courtney Akrigg praised the Geelong community...
Swinger: Tayla shows her batting style.ERIN PEARSONSOFTBALL champion Tayla Supple will spend Christmas on a plane as she travels around South Africa for the...
MELBOURNE Tigers and Adelaide 36ers will play off in September when national league basketball returns to Geelong, according to officials. The pre-season game will be...
Little winner: Torquay Tonadoes players celebrate Puck Klassen's goal spree.ERIN PEARSONAN EIGHT-year-old Torquay girl led the town's under-15 hockey team to victory in a...
Riding high: Grant Suckling in action.ERIN PEARSONHIGHTON endurance athlete Grant Suckling will chase an Anaconda Adventure Race series title after adding a silver medal...
ERIN PEARSON GEELONG will be buzzing with canoeing enthusiasts this weekend when the Australian Canoeing Marathon Championships come to town. Participants from across Victoria and interstate...
ERIN PEARSON A FULL-strength Geelong side will take on at home an injury plagued Port Adelaide after narrowly clinching a tough victory against Fremantle interstate...
Rookie: New Cats coach Chris Scott is looking forward to a big season.ERIN PEARSONGEELONG expects to run against a harder and faster St Kilda...
ERIN PEARSONNORTH Geelong continued its unbeaten run to win Geelong Soccer Cup on the weekend 4-0. Cup tournament liaison officer Russell Butler said the Warriors...
ERIN PEARSONNORTH Geelong and Geelong will face off in this Friday night's highly anticipated preseason soccer cup grand final after spectacular wins last weekend. North...