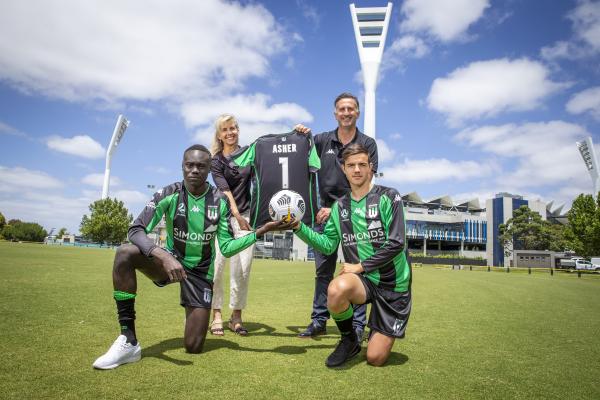 By Luke Voogt
Western United will hope to score its first win of the season and keep its unbeaten record against Perth Glory alive at GMHBA stadium on Saturday.
The fixture is the second of five games in Geelong this season for the Green and Black, who are yet to lose to Glory during their short time in the A-League.
Western United first played Glory in round two of the 2019/2020 season recording a 1-1 draw in its first ever home game at GMHBA.
United took the honours in the sides' other clash.
So far this season United has recorded a scoreless draw against Adelaide United at GMHBA Stadium and a 1-2 loss away to Melbourne City.
The match will be Perth's second of the season after a delayed start due to COVID-related fixture changes.
The A-League's highest goal-scorer of all-time, Besart Berisha, has yet to fire for the Green and Black this season.
The former Melbourne Victory striker kicked United's two goals in its most recent winning game against Glory.
No doubt United will be hoping Berisha can again add to his tally of 135 goals (215 games) by finding the back of the net on Saturday.
And his club seems destined to play more games in Geelong after Western United announced a partnership with council on Tuesday.
The club and council seek to promote A-League football in Geelong, build crowd numbers and attract more visitors to the region through the partnership.
The sponsorship agreement will see the Western United colours and brand promoted through council's banner and billboard programs.
Western United director of football and former Socceroo Steve Horvat hoped the partnership would help grow soccer in Geelong, where he spent much of his adolescent years.
"We have created a real home ground feel at GMHBA and this partnership will continue to develop that for both the players and fans," Horvat said.
"Even though we will have a home stadium up the highway in the Western suburbs, Geelong will always play an important part of our identity and as a key talent catchment area.
"There are thousands of registered players in greater Geelong, and by having an elite A-League and eventually a W-League team in the region, it will continue the sport's growth and create a pathway for girls and boys to follow their dreams."
Western United represents the suburbs of Melbourne's west and western Victoria including Geelong and the Bellarine Peninsula.
Geelong mayor Stephanie Asher said Western United had "done a great job engaging with the local community during their short history" as the city's "home team".
"Every Western United game in Geelong attracts visitors to our city and brings national TV exposure, while helping to build local participation in the sport of football.
"This partnership cements the club's relationship with the city and will bring benefits for the club and our local economy."
Western United are set to play another three games in Geelong but the A-League has yet to confirm full details for these matches due to potential changes to the COVID-19 situation.