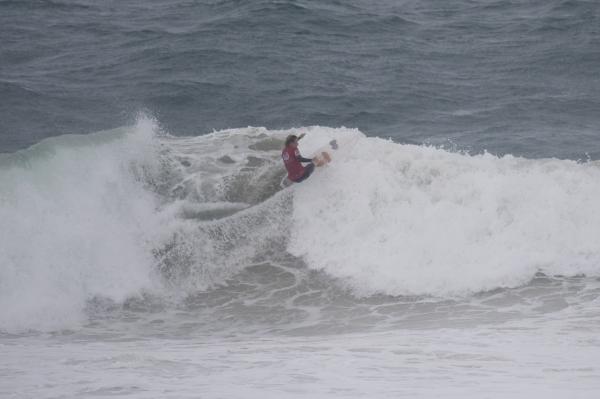 By Luke Voogt
Local under 18 surfers Mia Huppatz and Charlie Mahoney took out round one of the Victorian Junior Titles on the Mornington Peninsula last Friday.
Conditions were tricky during the final day of competition at Gunnamatta Beach with the grommets battling to make the most of onshore winds and choppy three-to-four foot waves.
Jan Juc teen Huppatz took advantage of some larger sized sets on the outer banks posting a heat total of 14.13 and beating Phillip Island's Poppy Corbett by more than four points.
"The conditions were pretty average, but there were a couple of fun ones to be had," Huppatz said.
"I managed to get lucky out the back, and find a couple of end sections to hit."
Ellie Harrison (Barwon Heads) and Minnie Vorrath (Pt Lonsdale) came third and fourth respectively.
Mahoney (Barwon Heads) snuck away from his competition and surfed the back bank in the final.
He managed to snag a couple of nice waves, posting excellent scores of 8.67 and 8.9 in difficult conditions.
"It was big and wild out there," Mahoney said.
"I saw a couple fun lefts out the back and decided to head out there."
Hot on Mahoney's tail was Ethan Huxtable (Jan Juc), who posted one of the highest scores in both days of competition.
Huxtable pieced together a nice three-turn combination during his 9.07 ride but was unable to find a second wave good enough snatch the lead, finishing three points short.
Finishing in third and fourth was Charlie Farrer (Barwon Heads) and Asher Lens (Jan Juc).
Jan Juc's Willis Droomer took out under 16 boys while Barwon Heads' Jerry Kelly won the under 14 division.
Huppatz's younger sisters Isla and Anna finished second in the under 16s and third in the under 14s respectively.
Results:
U18 Girls
1st – Mia Huppatz, 11.43
2nd – Poppy Corbett, 7.04
3rd – Ellie Harrison, 7.0
4th – Minnie Vorrath, 4.60
U18 Boys
1st – Charlie Mahoney, 17.57
2nd – Ethan Huxtable, 14.27
3rd – Charlie Farrer, 11.70
4th – Asher Lens, 11.10
U16 Girls
1st – Sarsha Panic, 13.76
2nd – Isla Huppatz, 11.16
3rd – Eva Bassed, 10.77
4th – Sara Seuren, 8.50
U16 Boys
1st – Willis Droomer, 14.67
2nd – Jack Bassett, 14
3rd – Isiah Norling, 10.17
4th – Harry Farrer, 6.90
U14 Girls
1st – Maeve Wilkinson, 14.57
2nd – Sara Hickson, 14.36
3rd – Anna Huppatz, 11.50
4th – Sophie Wilkinson, 7.77
U14 Boys
1st – Jerry Kelly, 13.40
2nd – Jarrah Cicero, 12.90
3rd – Jarvis Barrow, 12.50
4th – Joel Bartley, 11.94