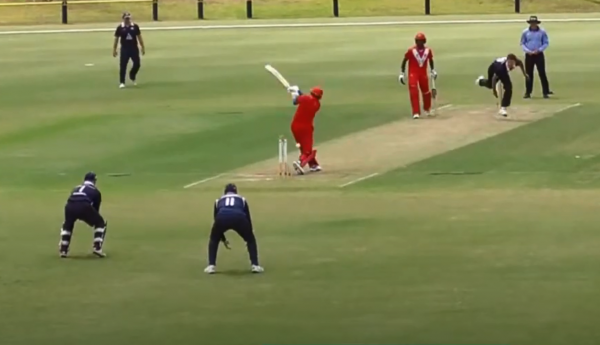 By Luke Voogt
Geelong Cricket Club has made the most of the Australia Day long weekend winning both games, with young paceman Josh Garner taking two four-wicket hauls.
On Tuesday the Cats were sent in by Casey-South Melbourne and lost an early wicket when Hayden Butterworth got a thick outside edge.
But fellow opener Eamonn Vines continued on for 73, with support from Josh McDonald (46) and a 50 from Thomas Jackson getting the Cats to 4/187 off 40.1 overs.
The Cats picked up the run rate after Vines' dismissal with Gus Boyd and brothers Josh and Tyler Larkin all chipping in, for 60 off the last 10, to get the Cats to a defendable 8/247.
Former Sri Lankan captain Tillakaratne Dilshan, best known for his innovative international ODI batting, showed his prowess as an off spinner taking 3/49.
But he failed at his forte. After hitting a cracking off drive for four the ball before, Dilshan took a rash swing at a delivery from Garner that cannoned into off stump.
Casey's woes continued when fellow quick Dom McGlinchey trapped Michael Wallace LBW and got an outside edge off Dylan Hadfield.
Garner bowled Devin Pollock with an absolute ripper that jagged back and hit the top of middle, putting Casey in deep trouble at 4/15.
Opener Ashley Chandrasinghe led the resistance as partners fell around him, finally receiving some support Chris Benedek.
The pair put on 135 for the fifth wicket until McDonald stumped Benedek for 55 off a leg side ball from part-time spinner Boyd.
Chandrasinghe holed out off Butterworth on 85 in the 41st over with Casey needing 73 runs to win.
The Bloods went down swinging but at 6/174 lacked the firepower to chase down the Cats' total.
The tail fought valiantly, losing by 28 runs, being bowled out for 219 in the 48 overs.
Garner finished with 4/37 including the important scalp of Dilshan while McGlinchey took 3/27.
Garner's figures backed up his 4/53 against Ringwood three days before.
Ringwood finished with a respectable 8/266 off 50 overs including 114 by opener Thomas Rogers.
But Jackson's 70* and Tyler Larkin's 70 off 53 balls helped the Cats claim a thrilling four-wicket victory with just five balls left.
The two wins take Geelong to seventh on the ladder with 15th-placed Kingston-Hawthorn coming up this Saturday.
The Hawks lost at least one of their last two games. Cricket Victoria is still finalising the result of their rain-affected game against Footscray, with some confusion over scoring.
The Cats must not underestimate the Hawks and take full advantage of their final game in an easy January fixture.
In the Geelong Cricket Association firsts Andrew Hughes was heartbreakingly run out on 99, but his knock still helped Lara chase down Murgheboluc's 9/232 off 50.
St Joseph's, South Barwon, Newtown-Chilwell and Grovedale also picked up wins.
Despite the rare loss, to seventh-placed Grovedale, North Geelong still leads the ladder, followed by Lara, South Barwon and Newtown-Chillwell.
In the seconds Charlie Walter took 6/28 to help East Belmont beat South Barwon by 63 runs.
Grovedale remains undefeated after 11 rounds with St Joseph's, Highton and Murgheboluc also picking up wins. East Belmont is two games behind Grovedale on the ladder, followed by North Geelong and Highton.
In a low-scoring round of thirds, St Joseph's, East Belmont, Lara, Newtown-Chilwell and Grovedale picked up wins.
Ladder leader North Geelong's loss to Grovedale was its third for the season. South Barwon remains one game behind, followed by St Joseph's and Newtown-Chilwell.