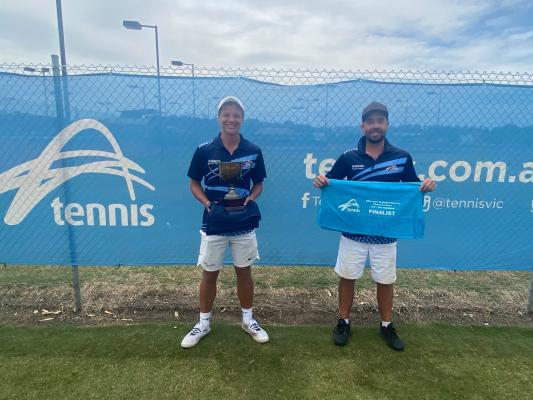 By Luke Voogt
Geelong tennis players have toppled reigning premiers Goulburn at the 65th Victorian Inter-Regional Country Championships at Warrnambool, with 17-year-old Taj Cayzer winning the men's singles.
The Leopold Tennis Club young gun beat his coach Matthew Hicks in the open men's final on Sunday to take home the trophy.
Cayzer took the first set in a tiebreaker before winning the second 6-4 in a tight contest between master and apprentice, who clearly knew each other's games.
Hicks went a step further in the men's doubles alongside fellow Centre Court (North Geelong) player Adam Lasky winning the final (4-0, 5-3).
Lasky also won the mixed doubles final with Waurn Ponds player Nicole Mullen (4-2, 5-3).
Mullen made the final of the women's doubles with Surf Coast Tennis Club's Olivia Rich.
But injury forced Rich to retire in the women's singles final earlier in the day when she was a game ahead of first seed Eliza Long (3-2).
The injury meant she and Mullen were unable to compete in the doubles finals too.
Geelong dominated the under 18 boys with Leopold's Gavin D'Souza defeating Geelong Lawn and Grovedale Tennis Club player Ned Simpson in a marathon three-set match.
D'Souza won the first set 7-5 while Simpson hit back winning the second by the same score.
They went deep into the third with D'Souza eventually overcoming Simpson 10-8. D'Souza's younger brother Jason came runner up in the under 16s.
Geelong Lawn player and first seed Kirrily McConachy dominated the under 16 girls final in two sets (6-1, 6-1).
Carolyn McGann (Centre Court) and Nicole Philoppou (St Albans Tennis Club) won the women's 35-49 doubles (4-1, 4-2).
Tegan Marshall came runner up in the under 18 girls singles and came up just short in the doubles too alongside fellow Grovedale local Jordyn Aitken.
Katie Alderton (Geelong Lawn) and Abbey Mcphee (Surf Coast) placed second in the under 16s.
Romeo Salla placed runner up in the over 50s, while Geelong Lawn mixed doubles pair James Coulson and Jill Pavia won the over 50s mixed title by walkover.
Coulson and David Kos (Newcomb) lost narrowly in the men's over 50s doubles 4-2 5-4(9) and in the women's over 50s Pavia and fellow Geelong Lawn player Fiona Walker also came runner up
5-4(5) 4-2.
Over the weekend the Barwon Region team accumulated 271 points, defeating reigning champions Goulburn by 19.
Incredibly, the score was more than double the 124 points Barwon scored in the championship last year.
With Rebekah Schoenmaekers.