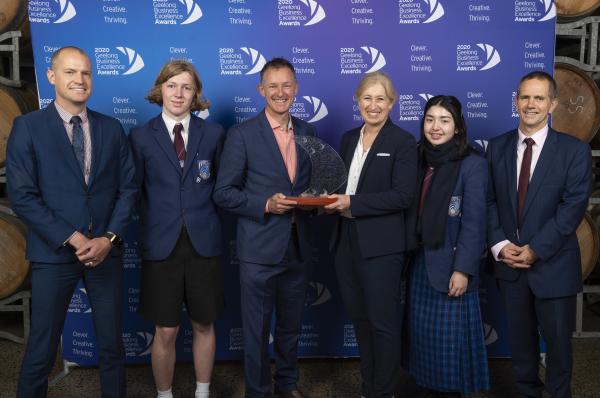 Carole Levy
For the past three years, students at Kardinia International College have conducted an annual audit of the school's waste by examining the contents of bins, checking whether rubbish was correctly disposed of according to recycling principles.
This student-driven project was just one of the reasons the college was declared the winner of a 2020 Geelong Business Excellence Award in the Sustainability category, sponsored by Barwon South West Waste and Resource Recovery.
Catherine Lockhart, one very proud principal, says the students and staff are keenly aware of doing their bit to take care of their corner of the planet.
"We have two teams – the juniors known as the Planeteers and the seniors Earthcore – that report back on areas that need attention and advise on their progress," Mrs Lockhart says. "They're pushing the canteen to stop using plastic products, and we're currently introducing a new bin system, thanks to their work. We'll ultimately work towards zero waste."
"Our separate year 5 campus at Lovely Banks has students learn all about sustainability, with productive gardens, egg production, beehives, and education about sustainable farming practices. Our staff are amazing and the kids learn so much they can take into the future."
Mrs Lockhart says ethical guardianship of the planet is one of the cornerstones of the internationally-minded school, with the aim of fostering the next generation to take an active role.
She says the college was thrilled to win the Sustainability award with its first entry, and definitely plans to enter again this year.
"The application process was invaluable in itself. It helped us to take stock, to reflect on what we've done well and celebrate that.
"We joined the Chamber of Commerce three years ago, and being part of the awards is part of our commitment to their work in helping our community. It also demonstrates to our students the importance of having a voice and agency in bringing about change."
Entries to the 2021 Geelong Business Excellence Awards close at 4pm on July 16 – go to www.gbea.com.au for all details.
Kardinia International College, 
9-31 Kardinia Drive,
 Bell Post Hill. 
Inquiries: 5278 9999 or
www.kardinia.vic.edu.au