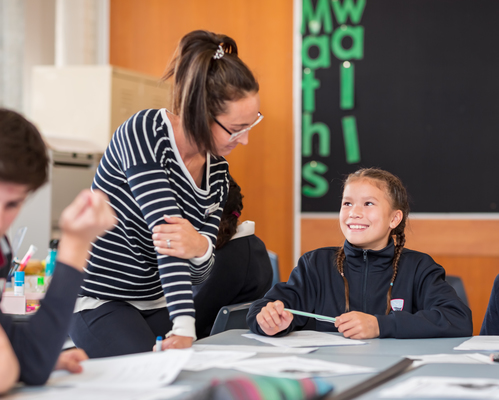 By Geelong Baptist College principals Judy Sobey and Neil Wetmore
When you enrol your child at Geelong Baptist College they become part of a community that spans your child's entire education, from foundation to year 12.
Their seamless transition is partly due to our positive learning environment and high behaviour expectations and standards.
Our extensive grounds enable our primary and secondary students to socialise and learn from each other.
Our role as teachers is to guide students to be responsible, confident, respectful and reliable young adults and we understand all too well the importance of these qualities being established in the early years and fostered throughout their schooling.
Collaborative activities across the school are important for students to learn how to live well in the community.
Opportunities for students to participate across primary and secondary include drama performances, excursions, SRC involvement and Anzac Day and graduation assemblies.
Many families enrol their children at Geelong Baptist College because they are looking for a seamless transition and consistent behaviour management.
Our discipline policy is based on the cornerstones of justice, acceptance, learning and safety, and students find themselves secure in the knowledge that they are in a safe and consistent environment, conducive to learning.
Starting high school can be quite daunting for adolescents, so we have a very seamless transition when children go from year 6 to year 7, with some staff teaching across both the primary and secondary areas.
Geelong Baptist College focuses on fostering self-worth and ensuring that each child can reach their full potential.
The college provides academic, creative, artistic and sporting opportunities for each of its unique students.
We are a growing independent school offering a vast array of pathways leading to a variety of careers.
Our staff and chaplain are always there for the students. We underpin our values by teaching using a biblical lens and by encouraging our students to see the goodness in the world, through eyes of awe and wonder.
We know our students very well and we value the individuality and uniqueness of each child.
As a consequence, we are committed to assisting and guiding every child to reach their individual goals and full potential.
Our vast private bus fleet, comprising of five top quality buses, covers all areas from Point Cook to the Bellarine Peninsula and into the hinterland reaching as far as Teesdale, Lethbridge, Bannockburn, Little River and the surrounds.
We would be delighted to meet you and encourage you to visit Geelong Baptist College at Lovely Banks in order to get a sense of who we are and what we have to offer the Geelong community.