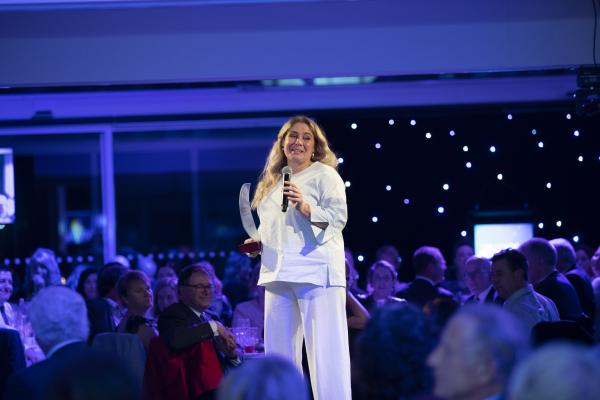 Esther Lauaki
A shared sense of wonder is what brings people together at Sally Ferris' Geelong yoga studio.
Wonder Yoga is a marriage of the practices and lifestyle of co-creators Sally and Richard Facer.
Having spent a decade learning, travelling and exploring multiple versions of the ancient practice of yoga, Sally says she realised that all the varied practices had a sense of wonder in common.
The studio was last year's Best First Year Entry winner sponsored by Harwood Andrews at the Geelong Business Excellence Awards.
For 35 years, the awards have been designed to recognise and celebrate our clever, creative and thriving businesses.
Sally says winning the award brought the team closer together.
"Everyone was very, very excited to know that they were involved in some capacity of the business that was recognised as being exceptional," she says.
"Our receptionists, through to our teachers, and our students come through and say, 'wow you won that, I'm so pleased for you'.
"What it also does is when people have a buy-in to your brand, and then they see that it's been recognised, it validates the choice that they've made as well."
Operating in a 2020 post-COVID environment has been challenging for Wonder Yoga as with many other local businesses – but Sally encourages other businesses to put 
their hats in the ring for this year's business awards.
"I found it a really good review mechanism, a really good networking mechanism and a binding mechanism for our staff," she says.
"Applying for this year's awards has been quite interesting because, while COVID-19 underlies every business decision we've had to make of late, the year that is in review precedes the virus.
"It's nice to be able to switch it off for a minute and look back and see that we've actually done really well and we will again."
More than 70 businesses enter the awards each year and Geelong Chamber of Commerce chief executive Ben Flynn says the success of the awards would not be possible without the support and commitment of major sponsors LBW Business + Wealth Advisors and Deakin University, as well as category sponsors and award partners.
"I encourage all to 'make this your year' and be part of this exciting awards program to celebrate your achievements and success."
Entries for the annual celebration are open until July 24.
For information on the Geelong Business Excellence Awards visit www.gbea.com.au