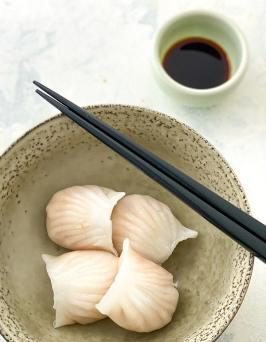 Carole Levy
The use of homemade slow-cooked bone stock in some dishes provides a peek into what to expect from British-trained head chef Harry He, who has owned Tempting Tastes Asian Restaurant in Geelong West for the past year.
Harry also makes his dumplings by hand, for example the prawn toast – made using a home recipe and fresh seafood.
Harry draws his influence – and created his recipes – from traditional Chinese and Japanese cuisines, and right up front he names the Peking pork loin as a headliner.
He's a whiz with sushi and inari – there are 10 options in each category on the menu. Inside-out rolls and freshly prepared sashimi are on board, as are bento boxes that come with a free bowl of miso soup.
There's no less than seven sizzling-plate dishes to choose from, with seafood well represented (think prawns, squid, salmon), along with chicken, beef and pork dishes. Noodle soups, and vegie and rice dishes can be had as well.
And customers, old and new, should note that yum cha dim sum is landing soon.
The family-friendly restaurant offers meal and snack deals, and is fully licensed and BYO.
As well, the website allows customers to make a dine-in reservation or lodge a takeaway order, and right now provides a code entitling diners to a 15 per cent discount on orders of $30 or more (T&Cs apply).
There's even a home delivery service – at set hours – to many surrounding suburbs (all details of where and when are on the website below).
Tempting Tastes Asian Restaurant,
 142A Pakington Street, Geelong West. Opens 10am-9.30pm Sunday-Thursday; 10am-10pm Friday-Saturday. Inquiries: 0424 368 068 or
 www.temptingtastesasian.com.au