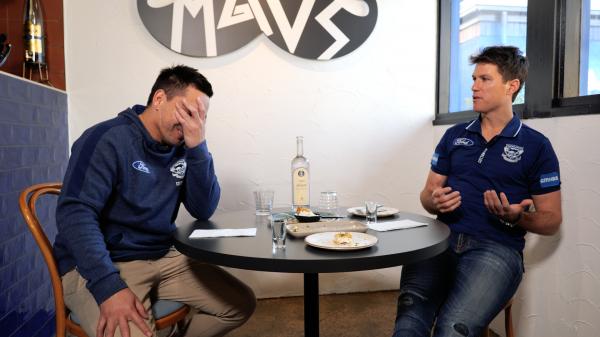 You can join former Geelong players and premiership duo Andrew Mackie and Mathew Stokes on a virtual culinary tour of Central Geelong as they visit three restaurants in support of the Tastes of Central Geelong Festival.
An initiative of Central Geelong Marketing, Tastes is a month-long festival of food, flavours and fun and is on now until July 31.
Both Mackie and Stokes are now working behind the scenes for the Geelong Football Club.
Stokes' extensive career consisted of 189 games for the Geelong Cats Football Club, kicking 203 goals and playing in two premiership games – 2007 and 2011.
Mackie played 280 games for Geelong between 2004 and 2017, after being drafted at pick No. 7 in 2002. He played alongside Stokes in the 2007 premiership team which defeated Port Adelaide.
First stop on their Tastes tour was Mavs Greek Restaurant, at 73B Little Malop Street.
Restaurant owner and head chef, Milton Mavromoustakos took Mackie and Stokes through making spanakopitas, the traditional Greek spinach pie, and a new feta dish created by Milton himself.
Mavs Greek Restaurant specialises in authentic traditional Greek cuisine. For the Tastes festival it is offering a Dine at Home Greek banquet for two, an art and food experience with 'Pinot and Picasso' and they are a stop on the Pick & Mix – Little bigger self-guided tastings experience.
Next up, was BB Chicken & Pub, located at 116 Moorabool Street, specialists in Korean fried chicken and craft beer.
Owner Michael Bong took the pair through a craft beer tasting, showcasing some of his personal favourites.
You can experience the best of BB Chicken & Pub during Tastes with its BB Sharing Feast, available to dine in or at home.
Finally, Mackie and Stokes dropped in to Black Bull Tapas Bar & Restaurant to have a go at making tacos with owner and head chef, Daniel Brehaut.
Black Bull is located at 48 Moorabool Street, and specialises in Spanish tapas and cuisine.
You can sample this popular restaurant during Tastes with the Pick & Mix tastings experience or try its entry for the Central Geelong Dessert Wars.
You can vote for your favourite dessert in the Central Geelong Dessert Wars for your chance to win a $200 voucher – for more Dessert Wars information and terms and conditions visit www.centralgeelong.com.au/tastes.
Mackie and Stokes' three-part video series to celebrate and support Central Geelong eateries during the Tastes of Central Geelong has been released on Love Central Geelong and Geelong Cats Facebook pages over the past week, with the final episode released tonight.
Make sure you experience the fantastic food on offer in Central Geelong this July during Tastes of Central Geelong.
From home, you can learn tricks of the trade from local chefs, try exclusive recipes, dine at home offers and build your own menu items. Or make your way into Central Geelong to sample gourmet food and drink, participate in food themed activities and offers from restaurants and cafes who need your support.
"Central Geelong Marketing has created a flexible digital program which can continue to evolve as restrictions ease," Central Geelong Marketing committee chair, Cr Peter Murrihy said. "The program features virtual events, activities and offers that the community can enjoy from the comfort of their own homes while also providing activities hosted in a number of Central Geelong venues with limited capacity."
Although this year's program is a 'lite' version of Tastes, Murrihy expects to see great participation.
"Each year has seen the event grow with more and more businesses coming on board.
"We have also built on the offering of the events delivered by Central Geelong Marketing including on-street activities and guided tours. The number of participants has continued to grow as the program keeps evolving.
"It's fantastic to see many Central Geelong businesses jumping onboard the Tastes program and the community response has been great … with many excited to see a full month of activity on offer in Central Geelong."
It's more important than ever to support local restaurants and cafes in Central Geelong if you are able to. There are lots of ways you can show your support – from participating in a Tastes event or offer to booking ahead of time, adding something extra to your meal or following your favourites on social media. Ensure you are following social distancing and hygiene requirements so everyone can stay safe.
To find out more and to download the Tastes of Central Geelong 2020 program visit www.centralgeelong.com.au/tastes