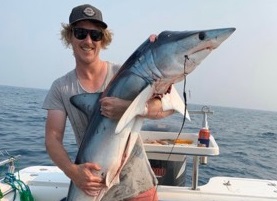 By Adam Van der Lugt
This past week has seen anglers do well offshore for everything from snapper to Mako sharks. Chris from Gone Fishing Charters guided clients onto snapper and gummy shark out off Point Lonsdale in 50-55 meters of water while Ben Cranage fished off Barwon Heads on Tuesday and managed a Mako shark of around 50kg.
Other anglers reported captures of kingfish to around the legal 60cm length with Australian salmon to 3kg still present throughout the rip and off Point Lonsdale. Squid numbers are still good around Queenscliff with reports of 'bigger than average' squid being caught, using baitfish coloured jigs in size 3.5 worked well this week.
With warmer arvos these past few weeks it's made for comfortable night fishing off our local beaches where fisho's have been doing well on gummy shark. Arriving early in the afternoon with enough time to catch a few salmon to use as bait is a good idea with squid and pilchards also effective. Jan Juc surf beach and Bancoora beach are both likely locations close to Geelong.
The Queenscliff harbour has fired for silver trevally and salmon for anglers fishing around a slack tide. Using soft plastics casting into the channel is highly effective, bait anglers also did well with bluebait for trevally to 50cm but working around either a high or low tide is a must.
Mulloway were caught in the Barwon estuary by anglers fishing land based near the Sheepwash area, using squid as bait accounted for fish from 50cm to 8kg being banked.
Big kingfish have arrived at Portland where fish to 15kg have been caught, casting white Slug-Go plastics over shallow water saw anglers test their gear on the hard fishing fish.
Closer to home at Port Fairy saw school tuna to 20 odd kilos caught by anglers also casting lures once they had located a school of feeding fish. Onto freshwater where Wurdi Buloc reservoir is still producing quality trout to anglers fishing mudeyes under a float. Late afternoons appear to be the ideal time to focus on with some anglers reporting numerous fish coming on the bite in the last few minutes of daylight.
Redfin were also caught by anglers casting lures out a bit deeper. The Barwon River through Belmont is in good condition and fished well for redfin and carp. Redfin were caught on a number of small diving lures and soft plastics while carp were taken on sweetcorn and white bread as bait. Try using a light burley of bread crumbs or creamed corn to hold them in the area you're fishing.