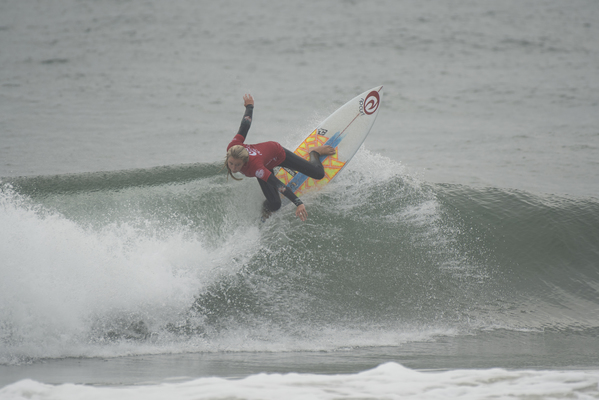 by Luke Voogt
Junior Barwon Heads surfer Ellie Harrison has narrowly missed out on the under 16 GromSearch National title in her first year in the division.
The 14-year-old grommet reached the final of the comp at Woonona Beach, Wollongong, this week.
But she fell just short in the final against Shelly Beach local Milli Allport in small but clean waves yesterday.
"I was happy to get into the final because it was my first time in the division," she said.
"I was pretty upset not winning but I was happy for Milli – she deserved it."
Allport gained the edge in the wave-starved final after posting a respectable 10.97 two-wave heat total with a mix of powerful forehand carves.
Harrison put on a valiant effort but was unable to find the required 5.95 wave score needed to take the lead.
She looked forward to having another crack at the title and a chance to represent Australia at the international final with some more experience under her belt next time.
"I want to do a couple of pro juniors this year too," she said.
Past Australian winners of the GromSearch International Final include WSL surfers Tyler and Owen Wright, Matt Wilkinson and Sally Fitzgibbons.
Harrison, who dreams of being a pro surfer like Steph Gilmore, followed her three older brothers into the waves at age six.
"I've been passionate about it since day one – I've never liked any other sport more," she said.
She enjoyed "hanging" with some of the top young surfers from around Australia and took home a few runner up prizes to boot.
"I got a GPS watch, which is amazing, and a Rip Curl bag."