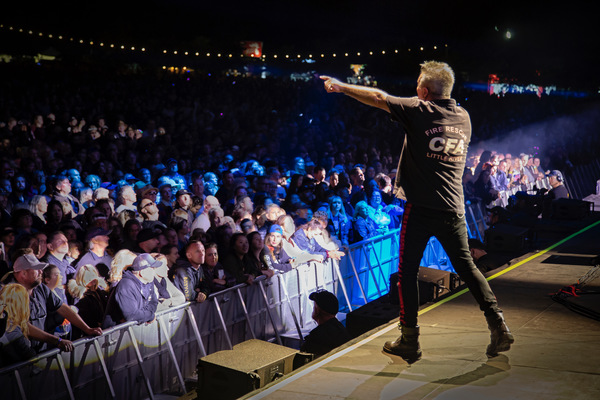 by Luke Voogt
Music legend Jimmy Barnes rocked a Little River CFA t-shirt in support of local fireys as he belted out classic Cold Chisel on Saturday.
'The Screamer' donned the shirt in front 20,000 fans for his last three songs during A Day on the Green at Mt Duneed.
Little River Fire Brigade member Emma Sutcliffe said she and two other members "got a massive kick" out of seeing their music idol wear it.
"The response from the whole crowd was great," she said.
"I think it was an amazing show of support for the dedication of all firefighters and everyone working in the emergency services, not just this season, but 365 days a year.
"It definitely looked better on him than on me!"
The Little River mother-of-two asked a backstage crew member if she could pass a shirt to Barnes earlier in the concert.
"(After she agreed) I ran back to my car to get the t-shirt and she passed it on to him," she said.
"Apparently when he received it he immediately said he'd wear it for the encore, with no hesitation. It was my only brigade t-shirt, so I've had to put an order in for a new one!"
The 44-year-old remembered seeing Cold Chisel growing up in Mildura, where she said their songs were "anthems" even before they were "contemporary".
"I've been known to regularly belt out Khe Sanh while driving," she said.
"He was amazing on the weekend – the guy is 63 and still moving and singing the stage like he's in his twenties."
Event organisers told the Indy details for a fundraising auction of the shirt would be released at a later date.