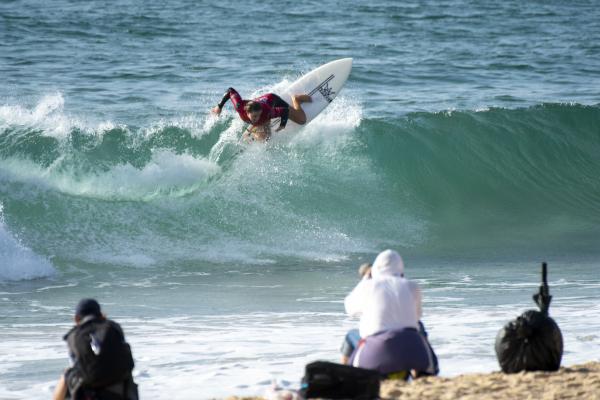 By Luke Voogt
Up-and-coming Jan Juc surfer India Robinson won the Maroubra Pro on Sunday, breaking a 15-month drought at the World Surf League (WSL) Qualifying Series.
Robinson rode one-foot waves to victory at Maroubra Beach, Sydney, after the disappointment of being knocked out in the semi-finals at Port Stephens a week earlier.
"I'm over the moon with this result, especially to win in these conditions," Robinson said.
"Small waves are generally not my strong suit, so to claim a win when it's like this gives me a lot of confidence as we head into the Central Coast.
"I tried to get busier and just hope for the best to be honest. Hopefully, this will be the first good result of many."
Some rated Robinson as the surfer to beat at the Port Stephens Pro before she was eliminated in the semi-finals.
She looked unstoppable at Maroubra, shining in her earlier heats and consistently posting two-wave heat totals in excess of 13 points on Saturday.
Robinson eventually defeated Sunshine Coast's Sophie McCulloch in the final on Sunday.
The event was Robinson's first major qualifying series win since her maiden victory at the Phillip Island Pro back in November 2018.
The event also featured world number three Sally Fitzgibbons, who McCulloch eliminated on her way to the final.
The elite three-day WSL Qualifying Series 1000-rated event was the third of four stops on the NSW Pro Surf Series.
The series headed to Avoca Beach this week for the fourth and final 3000-rated final event concluding this Sunday.
The surfers in the qualifying series are competing for entry into the Challenger Series later this year.
The Challenger Series is a new level of competition that WSL announced in 2020 and ultimately offers a path into the WSL Championship Tour, which features the best surfers in the world competing for the world title.