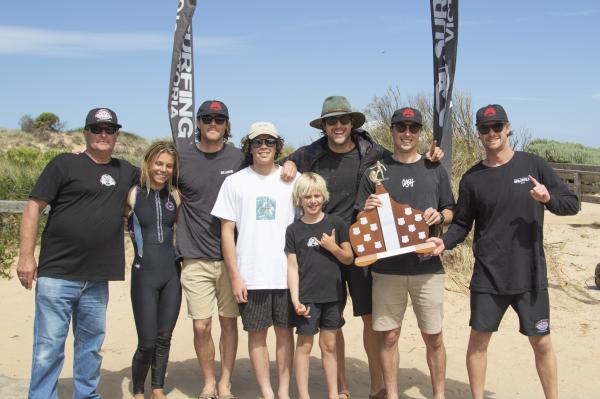 By Luke Voogt
Torquay Boardriders Club won both the junior and open divisions of the Victorian Teams Titles off Phillip Island on Sunday.
The titles got underway in challenging five-foot conditions at Cape Woolami, with light winds early, and reform lefts and rights on offer.
As the day progressed, the swell kicked and the wind came up slightly, which forced competition to shift down the beach to a more user-friendly bank.
Willis Droomer, who hails Jan Juc, was a standout performer in Torquay Boardriders' junior team.
Droomer ripped into a nice right-hander after making the decision to move to the other bank.
"It was tricky out there," he said.
"I managed to find a couple of waves though and … get the job done."
Alongside Droomer was Asher Lens, also a Jan Juc local, who laid some serious rail on a couple left-handers.
"Some of the lefts were fun out there," he said.
"I was stoked to be able to lay into a few and get a couple of nice carves in."
Torquay Boardriders Club president Harry Mann said he was "stoked to see everyone ripping" and that "the team surfed great all day long".
Torquay's junior side finished with a combined total of 30.47 beating home team Phillip Island (22.70), with 13th Beach Boardriders (15.70) coming third.
Torquay also beat the home side in the open division with a combined total of 39.84, almost six points clear of runners up Phillip Island on 34.09.