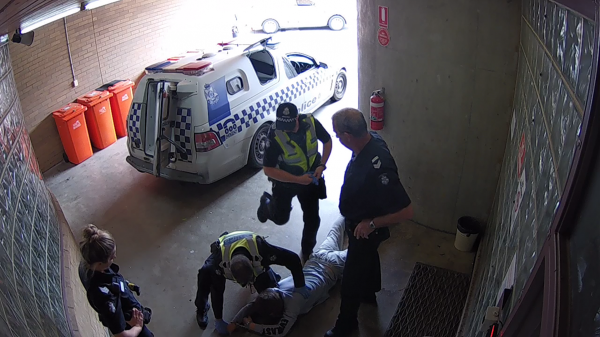 By Luke Voogt
A police sergeant who twice assaulted a prisoner while another officer held him down has avoided conviction.
Magistrate John Lesser last Tuesday found David Phillip Magher, 57, guilty of unlawful assault for kicking Andrew Birch during an arrest in 2018.
In a sentencing hearing last Friday Mr Lesser fined Magher $4250 without recording a conviction.
Police arrested then 36-year-old Mr Birch outside Corio Village Shopping Centre over a suspected armed robbery involving a knife, and took him to Corio Police Station.
CCTV footage of the station's sally port, viewed in court during a six-day hearing, showed Magher spraying Mr Birch with capsicum spray before kicking him to the ribs as he helped other officers bring him to ground.
Magistrate John Lesser noted evidence from 10 police witnesses, all of who said Mr Birch aggressively resisted arrest, and spat and yelled profanities at officers.
Mr Lesser ruled the first kick lawful, saying he could not find beyond reasonable doubt that it was an "unreasonable" use of force.
But about 30 seconds later Magher delivered the first of two more kicks as police held Mr Birch face-down on the floor with his cuffed hands outstretched.
Magher admitted kicking Mr Birch, but his lawyer Stewart Bayles argued the blows were of "reasonable force in the circumstances" given Mr Birch's aggressive resistance.
Mr Lesser disagreed, finding Magher guilty of unlawful assault for the "gratuitous and unnecessary" kicks.
In the sentencing hearing Mr Bayles listed his client's several injuries, commendations and traumatic experiences in the force since joining Victoria Police 29 years ago.
He said Magher "chips in" and supports other police in difficult incidents "even when he doesn't necessarily have to".
A conviction would greatly reduce the career policeman's chances of returning to work, Mr Bayles said.
He also noted high arrest and police injury rates at Corio Police Station.
Mr Birch's father Garry read out a statement in court about how the incident affected his son following his release from custody a few days later.
"He was quite despondent. It was as though a light had gone out," Garry Birch said.
"He told us about the assault and over the next few days complained about his chest and head. Then he was gone."
Mr Birch died of a prescription drug overdose a week after the incident.
"To know he was treated so inhumanely just days before his death breaks our hearts," Garry Birch said.
Mr Lesser acknowledged the family's grief but said Mr Birch's death resulted from several factors, included some not relating to the arrest.
He noted Magher's lack of remorse for the assaults but acknowledged his exemplary record prior to them.
While fining Magher he cautioned him to use better judgement to stay on the "right side of the law".
Magher was suspended with pay, and prohibited from engaging in other employment and volunteering, after the incident.
He faces internal disciplinary procedures from Victoria Police now that the charges have been proven.