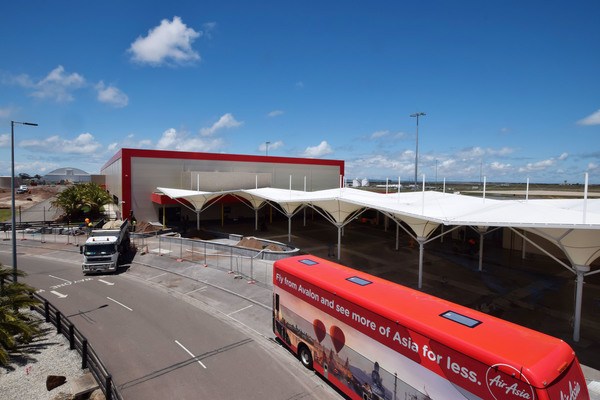 By Luke Voogt
AirAsia X is targeting Melbourne's northeast to lure customers to Avalon Airport ahead of Geelong's first international flights, the airline has revealed.
The marketing drive aimed to win back customers lost by the low-cost carrier's relocation of Kuala Lumpur flights from Tullamarine to Avalon.
"AirAsia has put a lot of effort into promoting the many Avalon advantages," an airline spokesperson said.
"Particularly in areas like Melbourne's northeast, where we know distance and convenience of terminals matters most."
Avalon is almost 40km farther from Melbourne CBD than Tullamarine and a roughly 30-minute longer drive from Melbourne's northeast.
But the AirAsia X spokesperson said cheaper parking, fewer freeway tolls and Avalon's new state-of-the-art terminal would help lure metro customers.
Geelong's first two flights to Kuala Lumpur next Wednesday were at 90 per cent capacity, they said.
"Therefore (passengers have) a good opportunity to make history and snap up the last few seats."
Ticket sales for the service had "exceeded expectation", the spokesperson added.
AirAsia X had filled more than 285 seats (about 76 per cent) for the first flight from Kuala Lumpur, which will land about 8.20am, the spokesperson said.
But the airline had left seats for media and dignitaries, including AirAsia X executives and Australian High Commissioner to Malaysia Andrew Goledzinowski.
Avalon Airport management staged a training exercise on Tuesday, with emergency services rescuing passengers with mock injuries and fake blood from the tarmac.
The airport on Sunday will officially open its new 9000sqm international terminal, featuring 450 seats and one of Australia's first full-body CT scanners.
The new route took advantage of rapid growth in Wyndham and greater Geelong, according to Avalon Airport chief executive officer Justin Giddings.
The move had cost advantages for AirAsia X and would create "considerable" Great Ocean Road tourism opportunities, he told Geelong Coast Magazine earlier this year.
AirAsia X expected the flights to run at 92 per cent capacity, airline CEO Ben Ismail said earlier this year, meaning 1387 extra people travelling through Avalon daily.
The move was unlikely to affect Malaysian and international patronage given AirAsia X marketed the flight as a Melbourne service, sources told the Indy.