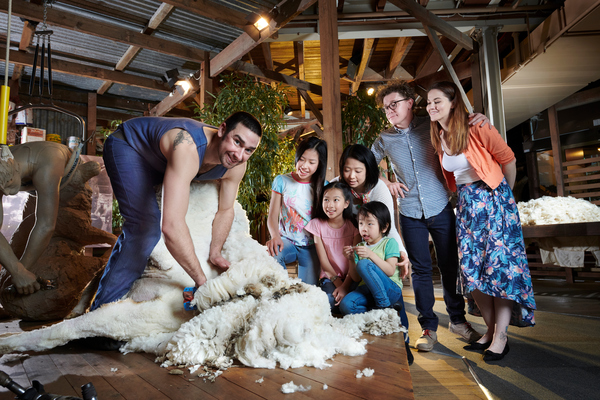 More than a million people have visited National Wool Museum since Queen Elizabeth II cut the ribbon to its front door on 21 May 1988.
The Geelong cultural treasure celebrates its 30-year anniversary with a free open day on 21 December.
Museum director Padraic Fisher this week invited visitors to 30-year celebrations, beginning on Friday with a bush animal weaving workshop.
"We're thrilled to be hosting a whole range of activities to celebrate the 30th birthday festivities," he said.
"The National Wool Museum is a hands-on cultural destination – with a national presence and a local heart that is much-loved by visitors and locals alike."
National Wool Museum has brought world-class exhibitions to Geelong including Wildlife Photographer of the Year, Pharaohs and Antarctica.
The museum's home, a bluestone building that was formerly Dennys, Lascelles Ltd Wool Store, has stood since 1872.
Originally comprising of three galleries, National Wool Museum now houses four gallery spaces with contemporary exhibitions running alongside its core wool-based collections.
The museum holds more than 7500 objects and 1000 photographs within its collection.
Geelong Mayor Bruce Harwood congratulated National Wool Museum on its 30th Anniversary.
"Since 1988, the National Wool Museum has told the timeless Australian story of wool, fibre and textiles," he said.
"Established as part of the Australian bicentennial celebrations, the museum has now cemented itself as a leading national cultural institution – integral to the cultural life of Geelong."
Festivities kick off on Friday with master weaver and award-winning contemporary artist Aunty Bronwyn Razem hosting a bush animal workshop.
Razem will share her knowledge of traditional weaving, from her Gunditjmara family heritage, to show visitors how to create a bush animal using hay and wool.
On Sunday illustrator Judy Horacek comes to the museum with her children's book Where is the Green Sheep? for a special birthday interactive story.
Then, on 21 December, the museum will open its doors to the public for a free 30th anniversary open day.
The festivities feature live sheep-shearing demonstrations and guided tours all day.
Next year the museum will host sand-filled interactive beach experience Sand in the City, Wildlife Photographer of the Year, from London's Natural History Museum, and a new Playschool exhibition.
National Wool Museum will also update its core galleries next year.