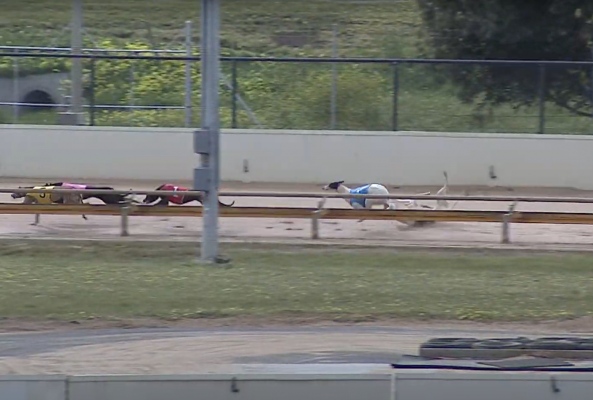 By Luke Voogt
A fifth dog this year has died at Geelong Greyhound Racing Club, making the track the fifth deadliest in Victoria, according to an animal protection group.
Maddingley Park was euthanised after suffering a leg fracture, as were the four previous dogs to die at Corio's Beckley Park in 2020, according to the Coalition for the Protection of Greyhounds.
"Maddingley Park died a typical greyhound racing death," the coalition's national president Dennis Anderson said.
"Eighty per cent of fatal injuries occur at track turns where the dogs bunch together, collide and often fall at high speed.
"Many of these injuries can be treated but the racing industry isn't prepared to invest in their rehabilitation – greyhounds are disposable."
According to the coalition, 181 greyhounds have suffered injuries at the Geelong track this year.
"Greyhound Racing Victoria (GRV) has recently increased prize money by almost three million dollars," Mr Anderson said.
"If they cared for animal welfare, they'd address the problems in greyhound safety instead."
Mr Anderson said industry-funded research by the University of Technology Sydney (UTS) in 2017 had recommended straight tracks and six-dog races.
"The only way to end greyhound suffering is to ban greyhound racing.
"Until that happens, the industry must reduce on-track deaths and injuries by implementing safer tracks with an emphasis on straight tracks and six-dog races."
But a GRV spokesperson said the organisation had a long-term strategy in collaboration with UTS to develop safer racing.
"GRV has used this approach to rebuild the Horsham track and in the current rebuilding of the Traralgon track," they said.
"Any changes we make at other tracks will be based on sound research and scientific evidence.
"The loss of a greyhound is distressing for all concerned. The decision to euthanise was made by a qualified on-track veterinarian."
Each track death was investigated, the spokesperson said.
"Greyhound racing has undergone massive reform in the past five years with welfare and integrity priorities for all involved.
"GRV introduced the Greyhound Recovery Initiative in December 2016 which provides financial support for treatment of greyhounds seriously injured at a race meeting."
State government had welfare requirements for keeping racing greyhounds "over and above that of any other animal", the spokesperson said.