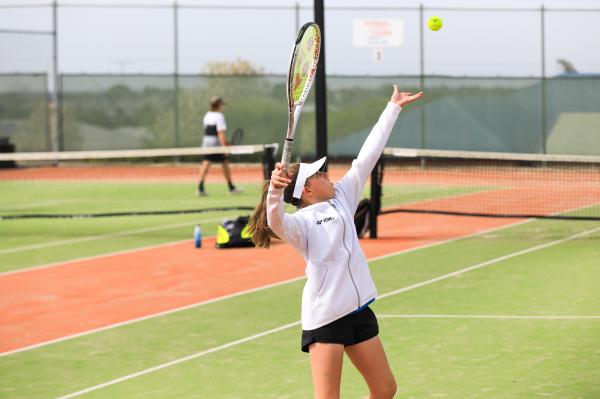 By Luke Voogt
Geelong tennis players returned to the court on Tuesday with the sport's local organising body announcing the return of competitive seasons in a fortnight.
Tennis Geelong announced midweek competitions would resume on October 13 after halting temporarily during the second wave of COVID-19.
Summer weekend junior and senior competitions will begin on October 24, while a seven-week Thursday Triples season will begin on October 29.
"We want to give clubs enough time to get their courts prepared and make sure the players know what they're doing with regards to COVID-19 protocols," Tennis Geelong president Donna Schoenmaekers said.
"It will give people a bit of confidence to return to playing and that we can survive things like this. I think everyone is cautiously optimistic and quietly excited.
"Most coaches have been able to operate, obviously with smaller numbers than usual. But you want to get out there and compete.
"It's something that I've really missed a lot. It's been quite frustrating, although I completely understand why we've been where we've been."
Players hit the court at Grovedale Tennis Club on Tuesday for a Universal Tennis Rating session, part of a Tennis Victoria series across regional Victoria.
"Because they can't have any points tournaments yet, this is a way for them to have a hit against people of similar ability," Ms Schoenmaekers said.
The social and mental health aspects of returning to play were also important, she said.
"I lot of us are quite social. Being able to get out and see people is going to be [big], as well as the fact that we might lose a few COVID kilos."
The seasons will start or resume with new cleaning regimes for courts, toilets and facilities, zero spectators for senior tennis and a maximum of one parent or guardian per player for juniors.
Tennis Geelong also plans to use QR codes to keep an electronic record of players attending.
"We're looking forward to getting people back on the courts and enjoying tennis once again," Ms Schoenmaekers said.
Details: tennisgeelonginc.com.au