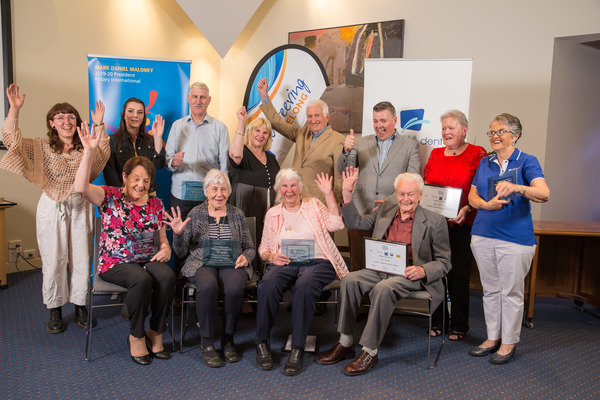 by Luke Voogt
Geelong's "top five volunteers" for 2019 won $750 for a charity of their choice plus $250 for themselves in a City Hall ceremony last night.
Geelong Volunteer of the Year Awards put the selfless locals in the spotlight, according to Volunteering Geelong chief executive officer Helen Hunter.
"This year, we again attracted an impressive list of nominations which underlines the vital work volunteers contribute across the Geelong region," she said.
Helen Nihill won an award for her work feeding the hungry through Geelong Food Relief Centre.
She led a large team of volunteers to ensure the centre ran smoothly for those in need, her nomination stated.
Barbara Chappell received recognition for 28 years volunteering at GenU supporting disabled young adults through wellness programs.
A retired teacher, Barbara spent one-on-one time with participants to help them achieve goals in a supportive environment, her nomination said.
With an impressive resume of volunteering roles, Beverley Burgess also made the top five.
Beverly has delivered Meals on Wheels for Corio Food Services for 44 years and volunteered for Maude Fire Brigade as an active firefighter for 36.
She has also volunteered at the Royal Children's Good Friday Appeal call centre for 45 years and knits items to sell for children's charity Uncle Bob's Club.
As a volunteer financial counsellor for Bethany's family violence program and other services, Russell Giddings has helped some of Geelong most vulnerable people.
"He is generous with his knowledge, displays a non-judgmental approach and quickly establishes rapport with clients," his nominated read.
Geelong Sustainability Group committee member Vicki Perrett also won an award for dedicating more than 60 hours to the organisation most weeks, her nomination said.
"She has been instrumental in creating major events and environmental leadership."
The judges selected the five winners from a shortlist of nine. Maddison Jackman, Christy Marsh-Trombelli, Les Smith and Joy Spikers were the other four shortlisted volunteers.