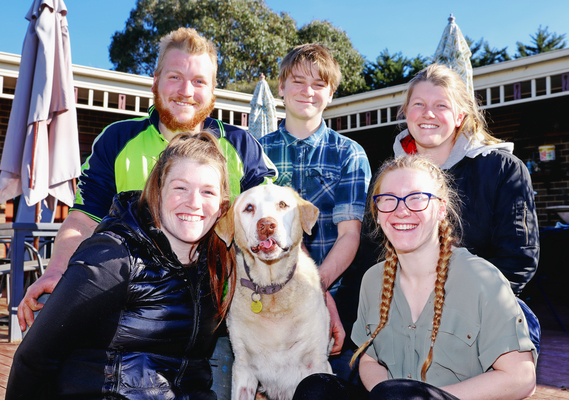 By Natalee Kerr
Drysdale's Elstone family received a "great surprise" last weekend when beloved dog Nugget was found after a week missing in the bush.
The 13-year-old golden retriever is arthritic, deaf and partly blind but managed to find a way to survive in the wet, cold and windy weather.
Owner Julie Elstone said Nugget disappeared after wandering from a friend's property at Stieglitz.
"He was out in the yard while we had a cup of tea and decided he'd go walkabout," she said.
After fruitless days of searching Julie thought Nugget was gone for good.
"We spent hours knocking on doors and looking on foot with the assistance of tracker dogs.
"With his health conditions, each day a possible return looked unlikely."
But last Saturday Julie was "shocked" to hear that English bushwalkers had found her "friendly" pooch.
"I thought, 'This better not be a bad joke', so I made them send me a photo. It turns out it was very much him."
Nugget was waiting "with a stick in his mouth and wagging his tail" when Julie arrived, she said.
"He did lose a lot of weight but, surprisingly, he was so clean. He wasn't dehydrated, and his temperature was good.
"We took him to the vet straight away and they said he was healthy."
Julie wondered about the adventures Nugget had during his time away but said he must have used his "farm-dog skills" to survive.
"We couldn't believe it would be possible. Even our vet was astounded."
"We're so happy to have him back. He's is a great work partner, security dog and friend."
So what would Nugget enjoy most about returning home?
"Party pies. He loves party pies," Julie said.