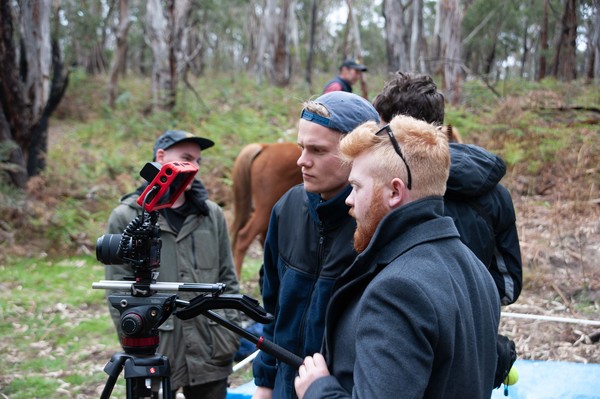 By Natalee Kerr
Ned Kelly was a "serial pest and thief" rather than a folk hero, according to a new local movie's "unique" take on the bushranger.
"It's the first time in Australian history the Kelly story has been told from the police perspective," said Moriac writer and director Ben Head.
"I want to show Australians what this guy was really about."
Mr Head and Anakie editor and cinematographer Ben Thompson, both 21, hope to challenge Australian perceptions of Ned Kelly as a "hero" when their film, Stringybark, premieres next month.
The film's angle on Ned Kelly was "unique", Mr Head said.
"It's centered around truth and first-hand evidence including historical accounts, police reports, original documents, hearings and people's testimonies."
Mr Head said Australians' "fascination with a criminal" had intrigued him since the age of 10 when he visited Glenrowan, where the Kelly gang had its infamous armour-clad shootout with police.
"I've always been interested in the story, but I was more curious as to why no one had ever looked to tell the story from the side of the good guys," Mr Head said.
"It became apparent to me that the story was shadowed by myth and folklore.
"Australian's have embraced Ned Kelly as a national folk hero, an underdog, a modern day Robin Hood, but in fact he was a serial pest and thief."
The young friends' movie recreated the moment the Kelly gang murdered three "respected" Victorian police officers in October 1878, Mr Head said.
The pair filmed Stringybark in Bellbrae, Gippsland and Altona with more than 100 people involved in the production, he said.
A crowd-funding campaign raised $35,000 to support the project.
The film included two years of research, with input from Kelly historian Dr Doug Morrissey and police descendant Leo Kennedy, Mr Head said.
He hoped Stringybark would reignite national conversation on the Kelly gang.
Stringybark will premiere at Lorne Film Festival on 27 July.