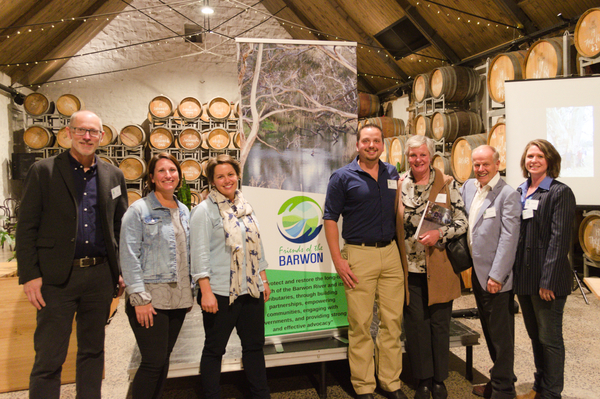 By Luke Voogt
A Geelong "water crisis" could force the city to reuse its wastewaster, according to a founder of new group vowing to protect Barwon River.
"We really are in a water crisis situation," retired Birregurra farmer and microbiologist Lachlan Gordon said following the launch of Friends of the Barwon.
"In the last two decades rainfall has decreased across our region and we don't have enough high-quality fresh water.
"Geelong is going to have to adopt a lot of things like water reuse in the future."
Mr Gordon joined about 150 guests, councillors and a representative of Water Minister Lisa Neville at the group's launch at Fyansford last Friday.
The group consists of dozens of individuals and organisations concerned with numerous fish kills and acid flushes in Barwon River, resulting from groundwater extraction.
"Until now there has not been a single unified voice to advocate, educate, and protect the Barwon," Mr Gordon said.
"That has been our intent, to get everyone involved and, most importantly, the broader general public."
Barwon Water announced in March that it would withdraw an application to controversially extract water from Barwon Downs borefield.
The withdrawal came after Barwon Water in 2016 acknowledged its groundwater extraction at the borefield over 30 years reduced base flow in nearby water systems.
The extraction led to acidity levels that killed fish and caused toxic flushes, including one that flowed down Barwon River last year.
A new Geelong-Melbourne pipeline would prevent the need for similar extraction, Mr Gordon said.
But Geelong could not rely on Melbourne's water supply, he warned.
"If you're taking from Peter to pay Paul and there's a state-wide drought you could have a nasty situation."
Friends of the Barwon's formation "formalised" a commitment to a better future for the river, according to the group's interim chair Peter Greig.
"We all have local and specific interests along the rivers," Dr Greig said at the launch.
"But by coming together, you are showing that we can achieve more than any of us can do on our own."
The event also featured speakers from river restoration projects across Australia and the ministerial advisory committee for Barwon River.
Kawarren farmer and long-time campaigner against Barwon Water's groundwater extraction Malcolm Gardner hoped the new group could stop the practice at Barwon River's tributaries "forever".
"The group certainly has a lot of people that are shakers and movers in it," he said.
"If groundwater pumping comes back then the Barwon's in big strife."