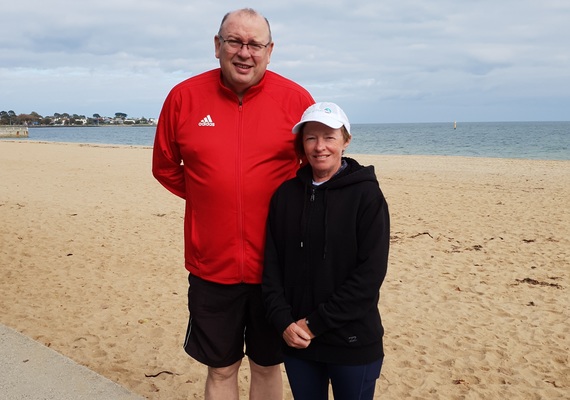 By Natalee Kerr
A Geelong mother who lost her husband to suicide has walked almost 3000km across Victoria to raise awareness for mental health.
Donna Bowman, 55, set out on the trek to "save her life" after her partner Tony took his own close to a year ago.
She was unaware Tony, a retired police officer, was experiencing depression or post-traumatic stress disorder prior to his death.
"I was pretty lost and I fell into a bit of a hole after his death," Donna said.
"I overdosed one day and I woke up in hospital to see my four children looking at me.
"That's when I thought I've got to do something."
Donna then turned to exercise and began walking, personal training and pilates.
She said her initial motivations to do the walk were "quite selfish".
"I don't see myself as this hero or inspiration," she said.
"I did this predominately to keep me alive, to give me a goal and something to achieve.
"But it has gone onto become something so much more than that."
After two months of walking Donna returned to Geelong last Friday.
"Even when I left I was doubting myself as to whether I could do it," she said.
"It was a massive challenge, but I'm surprised at how well my body coped."
During her walk Donna spoke with community members along the way about the importance of talking openly about mental health.
"The amount of police that walked with me and got on board was very heart-warming," she added.
"A lot opened up about their struggles which really encouraged me to keep doing what I'm doing."
Donna has raised $80,000 so far for Victoria Police's Welfare Services Unit which supported her after Tony's death.
Emergency services personnel are twice more likely to have suicidal thoughts than the general population, according to Beyond Blue research.
Donna said there is a "definite need" for better support for police officers.
"Although there are policies in place regarding mandatory debriefing after critical incidents it tends to get put off when really it should be a priority," she said.
Donna is now set to give evidence at the Royal Commission into Victoria's Mental Health System.
"When we have a physical health issue we go to the doctors. It should be that simple with mental health," she said.
"I'm going to spend the rest of my life making sure it becomes that simple."
For help contact Lifeline on 13 11 14 or beyondblue on 1300 224 636.