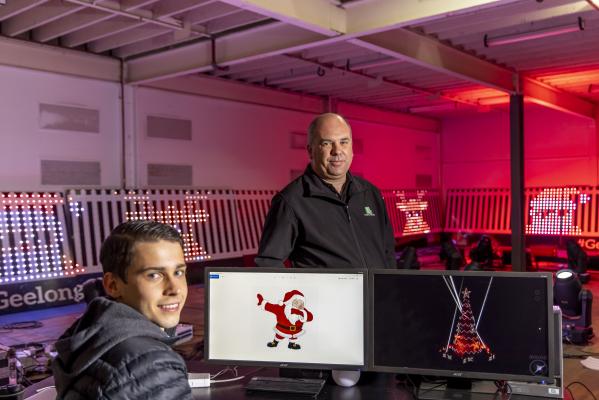 Geelong-based company Total Events is hard at work finalising the sound and light show for the arrival of Geelong's famous floating Christmas tree.
A behind-the-scenes tour of the Total Events workshop in North Geelong has revealed sound and lighting engineers hard at work the days count down until Christmas.
City of Greater Geelong mayor Stephanie Asher said the city was proud to work with local companies on the Christmas program to create jobs and support skilled tradespeople.
"COVID-19 has had a devastating impact on our events and entertainment industry so we're proud to work with a local company on our biggest show of the year," she said.
"There's never been a more important time to get behind the hard-working tradespeople and small businesses in our local community."
Total Events has worked on the light and sound for the city's Christmas centrepiece for the past six years.
Total Events project manager Scott Parker said this year's lighting program would be sequenced with soundtracks featuring a Christmas classic written by Louis Armstrong and a chart-topping disco and funk song.
"We're working hard to test all the lights and synchronise them with the soundtracks" he said.
Mr Parker said winning the contract for the light show was a great boost for the company.
"The event industry has really struggled with the lockdowns, and the continued venue capacity limits mean that live event work is still significantly impacted," Mr Parker said.
"Prior to the pandemic we employed 12 full-time staff and a pool of around 20 casuals. Now we have six full-time staff and no casuals.
"It's been a tough time.
"Getting the contract to light the tree is so important for us because it's a big project that our whole team can sink their teeth into.
"We're also conscious that people across our community want to something fun to look forward to after two pretty ordinary years.
"We want to help people have a happy Christmas and bring some joy to families and children."