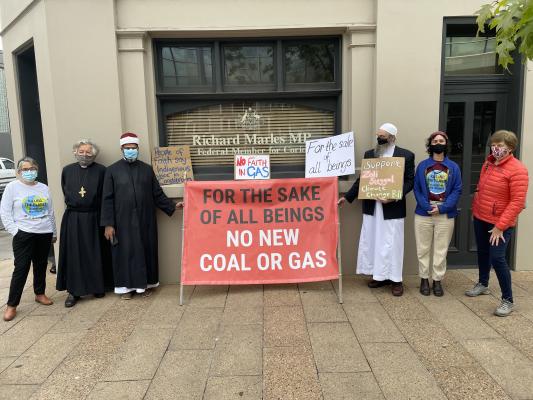 Ash Bolt
The leaders of several Geelong faith congregations came together this week to came together to call on the federal government to do more to address the climate emergency.
Leaders of Queenscliff Lonsdale Anglicans, All Saints Anglican Parish Newtown, Drol Kar Buddhist Centre, St Bernard's Catholic Parish, Uniting Church Geelong, and Shaykh Mohammad Ramzan held peaceful vigils at the offices of Corio MP Richard Marles and Corangamite MP Libby Coker on Monday to encourage parliament to do more.
Queenscliff Lonsdale Anglicans Reverend Peter Martin said the multi-faith group had come together to encourage federal politicians to set "more ambitious climate targets".
"We all come from different backgrounds but we all share the moral and spiritual challenge to look after all other beings and ensure that all life flourishes," he said.
"Our aim was to influence policy and convince them to get over their political interests for the greater good, because we haven't got long left.
"Our faiths are diverse but when we all come together, that's a pretty powerful symbol.
"Unfortunately we weren't able to talk to Richard Marles … but we were able to have a chat with Libby Coker about what we wanted to see done to address the climate issues."
The action tied into a wider-ranging 'Faith 4 Climate Justice' action movement across the world on the same day.
It also followed each of the congregations involved holding their own private gatherings on Sunday to spread the climate action message.