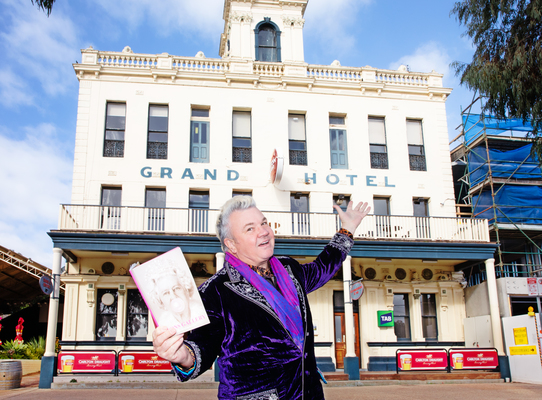 By Justin Flynn
A planned renovation will turn Portarlington's Grand Hotel into "Geelong's version of MONA", according to former mayor Darryn Lyons.
Mr Lyons, along with developer Bill Votsaris and business partner Mario Gregorio, hope to redevelop the 1888-built hotel into a tourism mecca on the Bellarine.
Mr Lyons compared the project to Hobart's Museum of Old and New Art.
"It will be Geelong's version of MONA," he told the Indy.
"We're probably going to have the most unique photographic gallery in all of Australia; something never seen before in this country in a commercial hotel."
A cocktail and piano bar, a brasserie, a sports bar and luxury accommodation were also included in the plans, Mr Lyons said.
"We've been in talks with Port Phillip Ferries as well, and we're still having incredible discussions in regard to the gallery being possibly shown on the way down as well."
Mr Lyons said he, Mr Votsaris and Mr Gregorio were close to securing a long-term lease for the historic Newcombe St hotel.
"It's going to be an incredibly exciting venture and details aren't completely finalised but it's probably going to be the most exciting renovation that's going to happen on the Bellarine from a tourism point of view," Mr Lyons said.
"I'm really excited by what I would describe as a rough diamond that I am so keen to polish it's incredible."
Mr Lyons said the dining room would be "pure Hollywood glamour".
He hoped to take over operations at the hotel "very soon".
"I can't give a timeline at the moment."
Mr Lyons said the project was not "all about tourism".
"It's giving back to the locals on the Bellarine, sourcing our food and drink.
"The journey for Melbourne people going to Portsea and the Mornington Peninsula, (they) are going to be awfully jealous of what we are going to create on the other side of the bay.
"We'll have a little touch of Europe on our doorstep."
Mr Lyons said the group had been in talks with the Little Projects company, but declined to elaborate on the details.
"We've been in talks about exciting possibilities but nothing has been confirmed with the Little group at this stage," he said.
The group's Paul Little, a former chairman of Essendon Football Club and ex-managing director at Toll Holdings, owns the company that operates Portarlington's ferry to Melbourne.