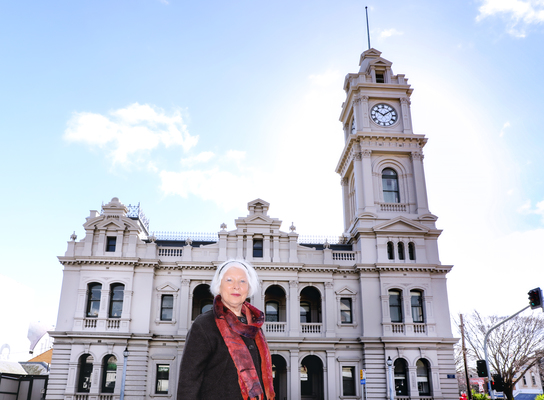 by Luke Voogt
A petition to keep Geelong's former post office publicly-owned has reached 1000 signatures with council again poised to decide the historic building's future.
Lex Chalmers planned to present her petition to council, which is set to vote on selling the 179-year-old building next Tuesday.
"Let's have the vision to keep the former Geelong post office so that it can enhance our community and display its strengths to visitors for the next 125 years," she said.
The East Geelong "heritage enthusiast" suggested the historic building host a gallery, children's museum or a design centre given Geelong's designation as Australia's UNESCO City of Design.
"Exploring the building and its exhibitions would be a missing piece to add to Geelong's menu of cultural activities for visitors," she said.
"Also, what about turning the postmaster's residence upstairs into a residence for visiting cultural contributors – writers, designers, historians and story-tellers?"
Bendigo had repurposed its post office as a community gallery and information centre, while Ballarat's was home to Federation University's arts academy, Ms Chalmers said.
"Bendigo and Ballarat both emphasise their heritage credentials to visitors, and have spent wisely to look after their heritage."
Ms Chalmers was in a committee in Portland that oversaw the conversion of two similar historic buildings to art centres, before she moved to Geelong 12 years ago.
Council has delayed making a decision on the post office, formerly home to City Hall offices, several times since declaring intent to sell the building in May 2018.
Former Tourism Geelong and The Bellarine director Roger Grant last July suggested Tune Hotels, owned by AirAsia founder Tony Fernandes, was interested the building.
Geelong Mayor Bruce Harwood this week said "strong demand" remained in the market for boutique hotel sites.
Council last year commissioned a conversation management plan to protect the building's heritage regardless of its future owner.
"We've done two conservation management plans now that very strongly support retention of the building as it is today," Cr Harwood said.
City Hall estimates the cost of refurbishing the now-vacant post office at $3.73 million as it moves to consolidate its central Geelong offices into a single headquarters.
"We're not going to be putting money into a building that we're not going to use," Cr Harwood said.
"Unfortunately those that don't wish to see the building go into private hands have not been able to provide alternatives that stack up financially."
Cr Harwood in April said selling the post office was in "the best interests of the greater Geelong community."
"It presents a great opportunity for the market to become engaged and to bring the building back to life, within the heritage protections that are in place."
Last month council management recommended selling the post office providing the new owner adhered to the conservation management plan.
But Council deferred its decision at a meeting at Indented Head on 9 July to discuss the matter at City Hall instead.
Cr Harwood said council would vote on the matter next Tuesday. The petition can be found at www.change.org.