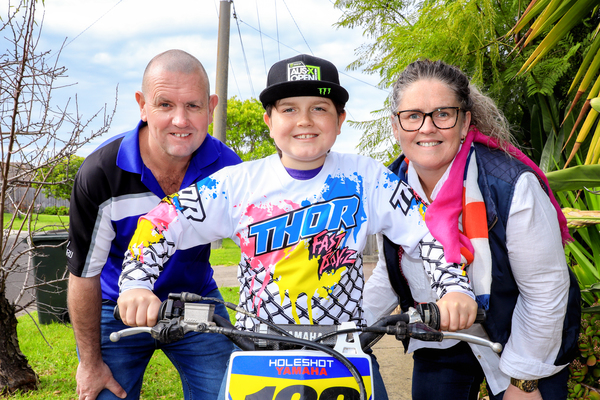 By Luke Voogt
Almost 35,000 Supercross fans cheered on Gus Graham as he made his track debut at Marvel Stadium – at just 10-years-old.
The St Albans Park youngster lived his dream of riding with Australian Supercross champ Chad Reed recently.
"I was not expecting that – it was cool," he told the Independent.
"Meeting Chad Reed and Ricky Carmichael was the best."
An "overwhelmed" Gus smiled ear-to-ear throughout the whole experience, mum Lisa said.
"He couldn't talk, the smile on his face was enormous," she said.
"We'd only told him beforehand we were going to the Supercross."
Gus had loved riding ever since his parents bought his first motorbike to "putt around the paddock" at age six, Lisa said.
"Motocross became our life, until Gus got sick."
About a year ago, Gus was diagnosed with Wilson's Disease, a rare genetic condition that leads to chronic liver failure, unstable blood-glucose levels and low bone density.
A knock to his abdomen could be fatal, Lisa explained.
She had to pull her only child out of football, basketball, motocross and rodeo, and leave her job to look after him full-time.
But despite him no longer being able to race, Starlight Children's Foundation granted Gus's wish to ride in the Supercross.
"There's not many people who can say they've been on a bike with Chad Reed," Lisa said.
Last December the family moved from Darwin to Geelong, Lisa's childhood home, to be closer to the Royal Children's Hospital.
But with Gus being vulnerable, the family went into "complete lockdown" during COVID-19 restrictions, Lisa said.
"I think we did nine weeks of not leaving the house. My mum wasn't even able to come near him, given his compromised immune system."
But he was able to get on his motorbike for "the first time in ages" last weekend for a carefully-supervised ride on a flat track, she said.
Last year Starlight granted 500 wishes for seriously-ill children.
With the foundation aiming to raise a "vital" $355,500 by June 30, Lisa encouraged locals to dig deep.
"Starlight foundation is an amazing association that gives back to kids in need," she said.