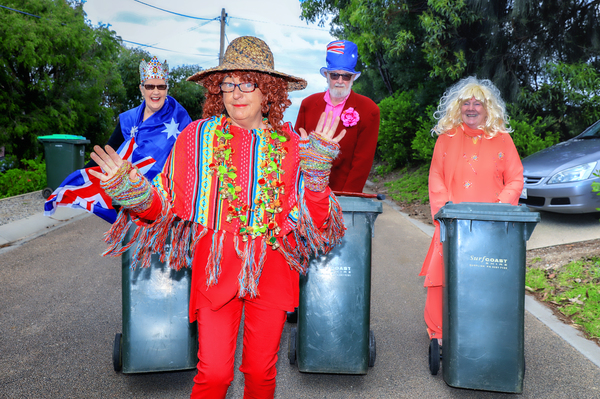 The COVID-19 pandemic has been tough for most but for Kaye Francis-Adamson it meant being separated from her husband of 52 years. She spoke with Luke Voogt about she how coped.
For nine weeks Fairhaven's Kaye Francis-Adamson was separated from her husband of 52 years, Laurie, amid the chaos of the COVID-19.
Kaye was preparing to fly overseas in March when she put 81-year-old Laurie, who has Alzheimer's, in temporary respite care.
But with the pandemic worsening, she cancelled the flight five hours before take-off on March 13, opting to fly to Darwin to visit her son instead.
As state borders began to close, she struggled to get a return flight home.
"I was meant to be there for seven days," the 75-year-old said.
"I just kept getting a message to say they cancelled the flight."
When she finally returned, the Lorne nursing home where Laurie was staying had gone into lockdown to protect patients.
"With all of the restrictions I wasn't allowed to visit, so it was quite emotional really," Kaye said.
"But I'm not bitter about it, because it is what it is and you've got to deal with it."
In 1986, long before Laurie's diagnosis, the couple bought a house in Fairhaven before moving permanently a decade later.
Laurie, who made shopfront signs for a living, was well-known locally for his oil and watercolour paintings and working behind the bar at Fairhaven Surf Lifesaving Club, Kaye said.
"He was also a calligrapher and taught calligraphy at night school.
"So, he's been involved in arts for all of his life. He was the life of the party. He loved people, painting and life."
But Laurie has been progressively deteriorating for eight years since his diagnosis, according to Kaye.
"Alzheimer's a bugger of a thing," she said.
"About five years ago he gradually lost interest in painting, which was very sad because that was something he really enjoyed doing."
In the past few years Laurie's ability to hold a conversation and cope with everyday decisions had also deteriorated, Kaye said
"He's just ended up as a shell, an empty shell."
Despite Laurie's condition, she missed his presence in the house during the forced separation, she said.
"It's just the feeling of having him there."
But her Fairhaven neighbours, and friends and relatives supported her as she waited to see Laurie again.
"We live in the most fabulous community," she said.
"I've had phone calls, messages and people drop off food at the front door."
Finally, on May 11, she was reunited with her husband as restrictions eased.
"I was so emotional and apprehensive because I didn't know how I would find him," she said.
"I thought he might be angry with me or upset but sadly he doesn't really understand the virus and its effects.
"He did recognise me but he had forgotten where I live. He was just confused and couldn't grasp what is going on in the world."
She is now seeing her husband again regularly following the easing of restrictions.
"I've made an appointment to visit him next Tuesday – I'm allowed a half-hour visit with no contact.
"I can't have a conversation with him because he's lost that.
"It would be lovely to put him in a car and take him for a drive somewhere but I understand that's not possible and I accept that."
Being separated by distance from her son and daughter, who lives in Singapore, her seven grandchildren and one great-grandchild also made things difficult, she said.
"My daughter is very frustrated that she can't come home to visit her father," she said.
"I FaceTimed with the kids last week when I saw Laurie and I think for them to see him like him that was traumatic.
"They want be here for me and they want to be here for Laurie but it's just not possible.
"I would love to see them but we've got to be so careful. I agree with the restrictions that we're under."
But "in hindsight" the separation helped her decide it was time to put Laurie in permanent care, she said.
"In that nine weeks he has deteriorated very markedly and he seems more comfortable now where he is.
"He's just better supported than what I could do for him at home. I did feel lonely for a while but I think I'm getting myself together and getting on with it.
"Living with a partner with Alzheimer's cuts you off from a lot of mainstream events because they can't cope with it.
"So it limits your social circle already, and the virus has just stopped it in its tracks."
Kaye said she was looking forward to seeing friends face-to-face again after keeping in touch with them during a regular online "happy hour".
"We tune into Zoom and we've all got a glass of wine and have a chat," she said.
And a recent bin isolation challenge organised by neighbour and "character" Jenny Molan helped lift her spirits.
"It's wonderful to see real people," she said.
"It was a fun thing to do and we would never have done it without the virus."
Jenny said she was happy to cheer her neighbour up.
"Of all the times I couldn't give her cuddle… it's an awful, awful disease, not just for him but for everyone else that knows him.
"I thought, 'let's be silly for a change.' We hadn't seen each other for a while so we just stood on the side of the road chatting."