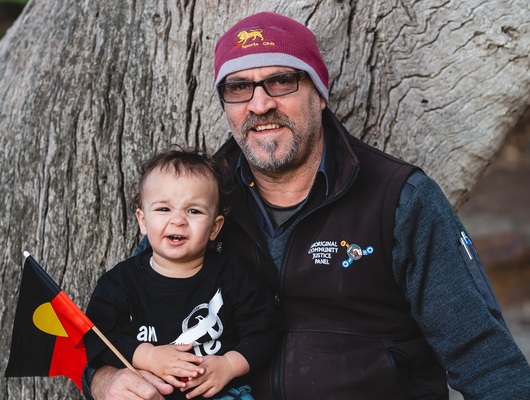 By Luke Voogt
Wathaurong Aboriginal Co-Operative's 40th anniversary is about "legacy" for chairman Craig Edwards, whose father Trevor was a founder and driving force of the organisation.
"We've come a long way as an organisation and a community," he said.
"From two or three staff to about 100 … we've grown immensely."
The co-op, registered in 1980, grew out of efforts in the '70s to support Aboriginal adolescents and children in foster care after being removed from their communities under the White Australia policy, Craig said.
Geelong had about a dozen Christian and government organisations dedicated to removing Aboriginal children from their families and stripping their identities, he explained.
Today the co-op provides health and support services, and preserves local Indigenous history.
"We want to teach our children – both Indigenous and non-indigenous – the history of Wathaurong country," he said.
Craig recently completed chemotherapy for bowel cancer, the same disease that killed his father.
"My board supported me all the way through," he said.
"Life's worth living when you've got the grandkids coming at you.
"Dad put community meetings before his cancer treatment. I said to him, 'you're bloody mad!' But it speaks to the calibre of man he was."
Craig had been working as a union delegate in Melbourne when Trevor died at age 76.
"His dying wish to me was to make sure [the co-op] was always in community hands," he said.
"I made that commitment to come back to the country to work and continue his legacy."
While COVID-19 restrictions have put a dampener on celebrations, the co-op plans to commemorate the anniversary by sharing its stories on its Facebook page.