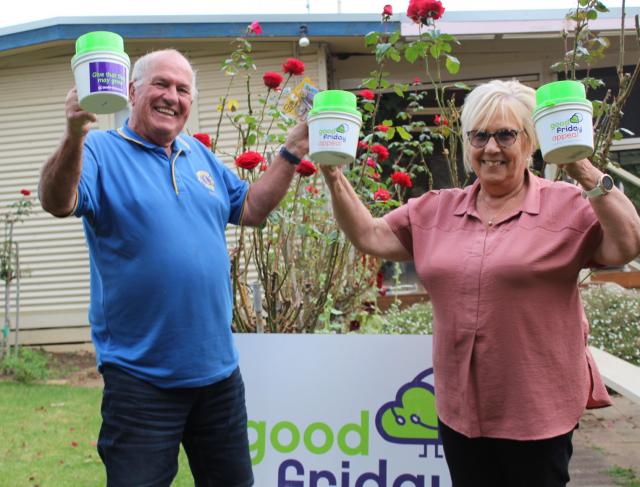 Ash Bolt
Geelong, Bellarine and the Surf Coast have dug deep, raising more than one quarter of a million dollars for the Royal Children's Hospital through the Good Friday Appeal.
The annual appeal raised more than $22 million statewide, with more than $2.5 million raised in regional Victoria.
Geelong was one of the largest donators, with volunteers collecting $104,255 in donations on Good Friday.
There was also $61,645 raised in Barwon Heads, $36,640 raised in Drysdale and $22,079 raised in Torquay.
Donations also flowed in from Bannockburn ($9929), Winchelsea ($9652), Ocean Grove ($9153) and Portarlington ($3242).
Torquay Lions Club Good Friday Appeal coordinator Peter McMahon said his group of volunteers had smashed its target of raising $10,000 this year.
"Our local community was so generous," Mr McMahon said.
"We not only achieved our target, but Torquay Lions and Torquay RSL members finished the day with $13,100 for this year's Royal Children's Hospital Good Friday Appeal.
"Last year, we raised $6500 – doubling that figure almost leaves me speechless.
"Volunteer collectors from Deakin University, Torquay Lions Club, and the Torquay RSL, with help from Grovedale Fire Brigade and some other volunteers, all helped us achieve the $13,100.
"Almost every family has been touched as the Children's Hospital has helped so many youngsters … I thank all who supported the appeal so generously."
Good Friday Appeal executive director Rebecca Cowan thanked all the volunteers and communities who gave their time and money to the appeal.
"Year after year, regional Victoria continues to be one of the biggest supporters of the appeal. Without our regional communities the appeal simply wouldn't be what it is today," she said.
"We are incredibly grateful to everyone for their generous donations to this year's Good Friday Appeal. The team work that binds all regional towns together is truly inspiring.
"This year, we saw some fantastic fundraising initiatives take place [including] a dance competition in Bannockburn. Making fundraising fun and inclusive was wonderful to see."
Funds from this year's Good Friday Appeal will go towards research, state-of-the-art equipment and technology, education and family centred care programs at the hospital.
Since 1931, the Good Friday Appeal has raised $421 million for the Royal Children's Hospital.