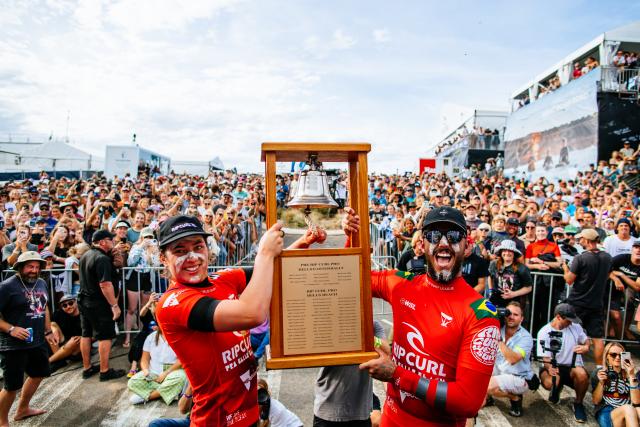 Ash Bolt
Australian Tyler Wright and Brazilian Felipe Toledo have both rung bell after taking out the Rip Curl Pro in Torquay on Sunday.
It was the first win for both surfers, after both had previously finished runner up at the country's largest surfing competition.
Action moved from Bells Beach to nearby Rincon on Sunday, April 17, with three-to-four foot conditions for the semi-finals in the morning and competition finishing in two-to-three foot waves in the afternoon.
Two-time WSL champion Wright was the form surfer of the event, posting excellent scores throughout, with the final being no different.
In the last heat of the event, Wright took on three-time Bells winner and reigning five-time WSL champion, Carissa Moore, in what was their third Bells final together.
With Moore clinching wins over Wright in 2013 and 2014, Wright found redemption from the first exchange, as she posted an 8.93 (out of a possible 10) in the opening seconds of the heat then backed it up with an 8.00 and left Moore chasing for the remainder of the heat.
Her score of 16.93 was her third highest of the tournament, showing her consistent performances, and gave her the win, with Moore scoring 10.57.
The win moved Wright to the second position on the world rankings.
"Honestly this means the world right now," she said.
"This is an emotional win for me. I've won two world titles but this win feels almost as big for me.
"I've been competing here and walking down those stairs for 12 years now and to get the win, with a lot of my family here, I'm over the moon and beyond stoked.
"It's been a long four years for me recovering from what I went through (post-viral syndrome) and I'm only just feeling like myself in the water again.
"There's been multiple times where I just wanted to give up. I worked so hard to be here, and I'm just so beyond grateful to have the support I had, and the love and the care as well.
"It is more than a win, it's the only event I ever really wanted to win and here I am and I'm pretty over the moon and beyond stoked."
Toledo also found redemption on Sunday, after previously finishing runner up in the Rip Curl Pro to John John Florence in 2019.
In the final, Toledo came up against Australian rookie Callum Robson who was on a devastating run of form, but it was no match for the perennial title threat as he claimed the title.
An 8.17 early in his heat put him ahead early and Robson was unable to catch up, with the Brazilian finishing with a score of 14.74 to Robson's 12.94.
"The last few years we haven't been able to come here (to Bells Beach) because of everything that has been going on and we've missed you Bells. I'm really happy to be back here, it's been an amazing week," Toledo said.
"After I beat John (Florence, in the quarter final) I had that extra confidence going into the next few heats which was exciting.
"It was cool to share a final with Callum. I've been coming here for nine years trying to get a Bell and this guy is in the final in his first year, which is crazy."
It was a big week for Robson in his first Rip Curl Pro, knocking out surfing legend Mick Fanning and moving into sixth place on the world rankings.