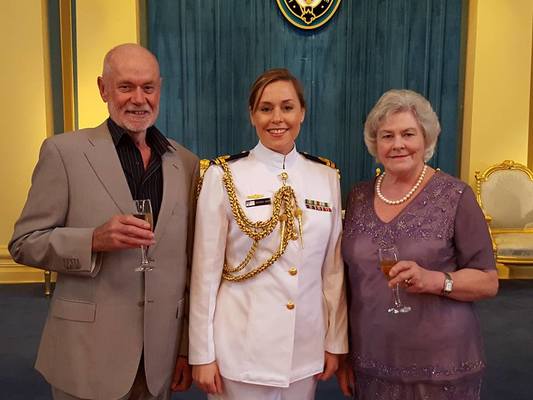 By Luke Voogt
A Geelong love story spanning all three armed services will feature in the city's waterfront Anzac Day dawn ceremony next week.
Drumcondra's Peter and Helen Jager fell in love treating soldiers wounded in the Vietnam War, and their daughter Natasha still serves in the Navy.
Helen, 70, thought her unshaven, shaggy-haired future husband "was a bit of a scruff" when she first met him at Singapore airport.
She was returning from completing a medical evacuation (medevac) to Australia from Malaysia.
Helen grew up in Manifold Heights and joined RAAF Nursing Service in 1969, specialising in medevacs.
The RAAF officer worked with Peter during her posting to Butterworth, Malaysia, which began in 1971.
"We had a medical centre over on the island (Penang)," she said.
"That's when the romance started. He's an outgoing personality and he's got lots of energy and enthusiasm."
Peter, 72, grew up in Tasmania and joined the army reserve as an engineer while working as a paramedic.
His 'pop' drove trains on the Western Front in World War I until suffering a gas exposure.
His father served as a medic in World War II, while his half-uncle died in a Lancaster bomber raid over Magdeburg, Germany.
Peter became a medic and switched to the RAAF as the Vietnam War intensified.
He had just travelled "the hippie trail" across India, Afghanistan and Europe on leave when he met Helen, he explained.
After cleaning up he worked as an anaesthetic technician with her in Malaysia.
"I remember one man who had both legs and one arm blown off by a mine," he said.
"You're concentrating on the job, not how much blood there is and how terrible it is. You have to turn that off."
Peter and Helen courted each other off base in Malaysian cafés and restaurants.
"It's a lovely place to be off-duty," he said.
"She was attractive, had a great personality and we just clicked."
But military police busted them when Peter rode over to "have a coffee" with Helen in her room, after discovering his hidden bike.
The base's commanding officer confined Peter to base for seven days but allowed Helen to finish her tour of Malaysia.
Helen had to resign her commission to marry Peter in 1973.
Peter left the RAAF in 1977 and two years later Helen gave birth to Natasha, who drew inspiration from her parents' "fond memories" of service together.
"We used to eat curries a lot at home because mum and dad spent a long time in Malaysia," she said.
Natasha was a naval cadet for five years and completed a double degree at Australian Defence Force Academy (ADFA).
She went on to serve in the Persian Gulf after 9/11, on a warship intercepting drug-laden boats to prevent the terrorist heroin trade.
Natasha also served on ships ferrying Federal Police and Army soldiers around the Solomon Islands in 2005 to capture escaped criminals.
After 14 years serving fulltime, she is now a Navy Reserve lieutenant and Aide de Camp to the Victorian Governor.
She has spent the last five Anzac Days with her parents, after years of dawn services aboard naval ships watching the ocean sunrise.
Natasha and her parents will speak at Geelong's third waterfront Anzac Day dawn service.
"It's a special connection that we have that I really enjoy," she said.