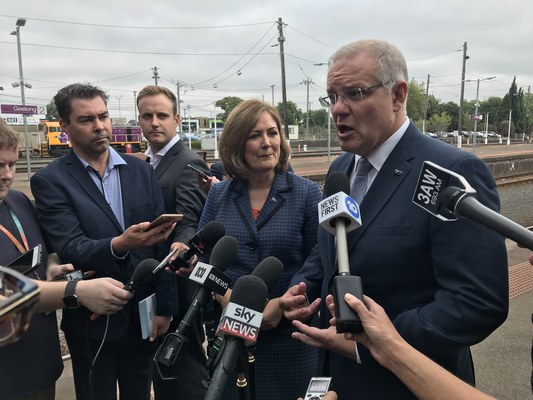 By Luke Voogt
The cost of living is the most important issue for Corangamite voters, according to an independent survey released this week.
Non-profit organisation Australian Futures Project and Roy Morgan released the data as Prime Minister Scott Morrison campaigned in the marginal seat on Tuesday.
Mr Morrison visited Drysdale, Grovedale and Torquay, targeting seniors as he promoted "tax relief" plans for families and small business.
"The people of Corangamite and Australia have a choice at this election," he said.
"Between a government that is lowering taxes for all Australians or Bill Shorten's Labor Party that will impose higher taxes that will weigh down our economy."
Over two and a half years the survey asked more than 50,000 Australians, by electorate, which of 20 federal issues they thought most important.
Law and order, honest government, health services and climate change ranked as the next four most important issues for Corangamite voters, according to the survey.
In response Mr Morrison promoted the coalition's recent commitments of $40 million for a new paediatric emergency department at University Hospital Geelong and $50 million towards State Government's planned women's and children's hospital.
He toured on Tuesday with Corangamite MP Sarah Henderson, who faces a serious threat from Labor challenger Libby Coker.
Recent polls have the possibly-crucial seat swinging towards Ms Coker by a tiny margin, while bookies have firmly backed the Labor challenger.
Mr Morrison praised Ms Henderson for delivering "our investment" including new aquatic centres in Torquay and the Bellarine Penisula.
"People across Corangamite can see Sarah Henderson is delivering for the local community and that she works hard for the local community."
But Ms Coker said Labor's policies, like waiving upfront fees for 100,000 TAFE students, would better ease costs of living for Corangamite voters.
"For parents with young children, Labor will deliver 15 hours a week of early education for kindergarten and preschool for all children," she said.
"Labor will impose a two per cent cap on private health insurance price rises for two years, saving a couple about $340."
Ms Coker promoted Labor's $2.8 billion for hospital upgrades and its $2.3 billion Medicare Cancer Plan for free scans, consultations and cheaper medicines for patients
"My father died of prostate cancer. It is the most commonly-diagnosed cancer in men in Australia," she said.
"Our Medicare Cancer Plan will lessen the suffering and stress that comes from waiting in a queue for way too long and worrying about … medical bills when you are very ill."
Labor has promised to reduce emissions by 45 per cent on 2005 levels and ensure that 50 per cent of all energy comes from renewables by 2030.
The coalition has promised 26 to 28 below 2005 levels by 2030 and accused Labor of failing to cost its climate change policies.