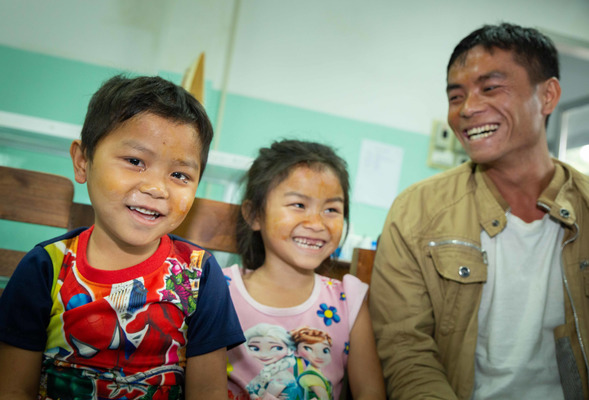 Geelong has raised more than $300,000 to help restore sight to thousands of blind and vision-impaired people in countries such as Laos.
Lao single father Porlee and his two children Shoua and Blong were among many to receive a Christmas gift from the Fred Hollows Foundation.
Porlee's children were born with blinding cataract – a clouding of the normally clear lens of the eye.
"Our life was so difficult, I had no idea what to do," Porlee said.
He then came in touch with the foundation's outreach eye camp and set off on a eight-hour journey to the hospital with his children.
Porlee later discovered, while at the hospital, that he also had cataract in both eyes.
But with the help of an ophthalmic surgeon, and $312,000 worth of donations from the Geelong region, the family's eyesight could be restored.
Fred Hollows Foundation chair John Brumby said the generosity, support and community spirit of Geelong was "inspiring".
"I'm proud to be a Victorian but now even more so, having seen how our community gives to people who are less fortunate," Mr Brumby said.
"I want people to know that every dollar counts and makes a huge difference to people who would otherwise go blind without our help."
The non-for-profit organisation, founded by eye surgeon Fred Hollows in 1992, now operates across more than 25 countries to help train and empower local eye doctors.
The foundation aims to "make sure everyone, whether they're rich or poor" has access to high-quality affordable eye health.
Luke Voogt