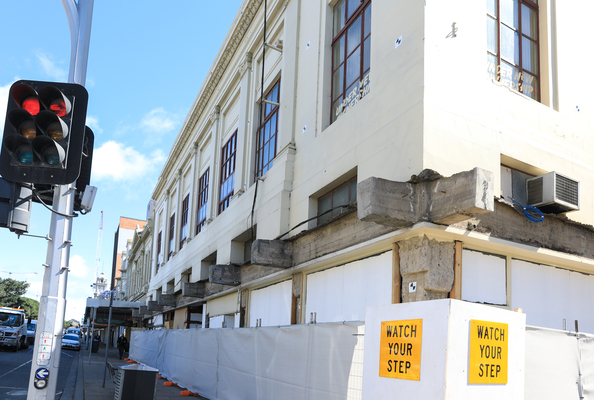 Sex assault
A man has allegedly sexually assaulted a 29-year-old woman in a central Geelong supermarket, according to police.
Investigators said the "unknown" suspect, who they described as Caucasian with blonde hair and aged 25 to 35, attacked the woman in the Malop St store around 8.15am on 26 November.
Demolition proceeds
City Hall will demolish a central Geelong building "in the interests of public safety" after the owners failed to comply with an emergency order to pull down their crumbling Belchers Corner.
The demolition, between mid-January and late April, would leave the owners with a fenced area of flat gravel on the corner of Moorabool and Ryrie Sts, City Hall said.
Woman injured
A woman in her 80s has been critically injured after a car ploughed across a sports ground and into a light pole at Ocean Grove's Shell Reserve.
An air ambulance ferried the woman to hospital after the crash on Thursday morning, with police yet to confirm before the Indy went to press whether a medical incident was involved.
Drysdale delay
Geelong's council has deferred its decision on whether to rezone Drysdale farmland for a controversially proposed redevelopment with 500 dwellings.
Council needed "more time" to consider the rezoning after hearing objections that the proposed redevelopment would damage the town's character.
Water falls
The region's water storage levels have fallen for a fourth consecutive week, according to official measurements.
Barwon Water recorded the storages at 68.8 per cent of capacity on Wednesday after 5mm of rain and consumption of 839 million litres over the previous seven days.
Screed scrounged
Investigators have recovered a $165,000 laser screed machine stolen during two raids on a Corio building site earlier this year, police have revealed.
A ride on trowel worth $20,000 and other items remained missing after burglars targeted shipping containers on the Heales Rd site in June, police said.
Men wanted
Geelong Police are hunting two men wanted separately for contravening court orders.
Police this week released images of Wayne Luttet, 49, and Mitchell Blackney, 20, saying they were possibly somewhere in the Norlane and Geelong areas respectively.