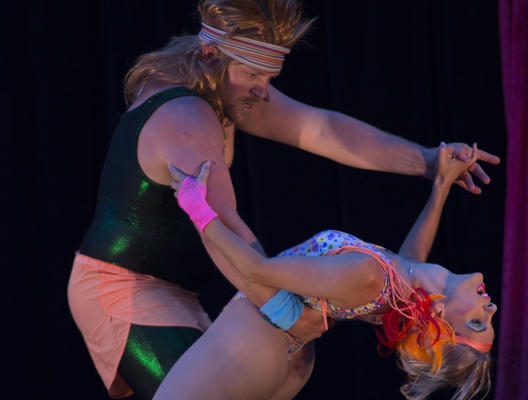 By Natalee Kerr
Drysdale's Potato Shed has unveiled its all-Australian 2020 theatre season featuring a mix of "timeless" classics and "modern" additions.
Home-grown theatre takes a starring role in the programme that aims to inspire, challenge and entertain audiences.
The season begins on 14 March when Ray Lawler's seminal work Summer of the Seventeenth Doll comes to the Shed.
The play portrays Australian life, following the tales of six characters who must come to terms with their changing circumstances.
The next show to hit Drysdale in March is Cosi – a semi-autobiographical play written by Louis Nowra.
Set inside a Melbourne mental institution in 1971, the show fuses humour and sadness as it explores madness, illusion, sanity and life.
In April, a "unique" Australian love story, Memoirs and Mullets, is set to hit the stage.
Geelong's Chantelle and Benji Fava will don roller-skates and spandex for the romantic tale that weaves iconic music, circus and dance.
Then, in May, Michael Griffith's psychological thriller The Magnolia Tree will arrive to challenge societal views on ageing parents with mental illness.
A comedy follows later that month when Damian Callinan visits the region.
The award-winning writer, comedian and actor will explore a cavalcade of characters within a dysfunctional football club with his solo show The Merger.
In June, Dan Giovannoni's original play Slap, Bang, Kiss unravels what it means to go "viral" when three young people become global symbols of revolution.
Also in June, popular TV series Mother and Son will come to life on stage with comedian Julie McGregor staring as Maggie and Christopher Truswell as Arthur.
Coming to Drysdale in July is Damon Smith's "raw and honest" cabaret show Mental as Everything.
Drawing on Smith's own experiences living with obsessive-compulsive disorder, the production explores the "multifaceted nature" of mental illness.
Then in August, Peta Murray's play Wallflowering is set to trace the uncertain steps of an ordinary couple as they attempt to save their marriage.
Callinan is set to return in September for his starring role in Newk – a production exploring the life of great Australian tennis legend John Newcombe.
Caroline Ferguson will then bring a touch of old-school glamour to the region when her one-woman play Dahlin! It's The Jeanne Little Show heads to the Shed in October.
In November, cabaret, burlesque, magic and film visits Drysdale in the production Lost In Venice that explores the "great divide" between men and women during the 1950s and 60s.