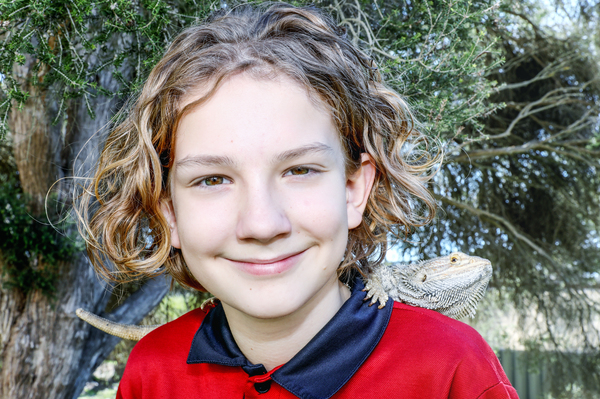 by Luke Voogt
Christian College student Jarrah Mahoney got up close and personal with one of Serendip Sanctuary's bearded dragons for Kids Teaching Kids Week on Wednesday.
"He was very tame and very good," the St Albans Park 11-year-old told the Indy.
"It's not every day you get close to a lizard of that kind."
The grade five student gave a presentation to grade six students but had no nerves teaching older kids thanks to his meticulous preparation.
"They were very well behaved and it looked like they were very interested," he said.
Jarrah made a 'bee hotel' on Tuesday night with clay, sticks and old hair-rollers in the family lounge room for the presentation, his mother Natalie said.
Kids Teaching Kids Week involves 8000 students across Australia giving their teachers a break by running their own lessons.
"It was quite good that we got a rest from teachers," Jarrah said.
Parks Victoria education officer Vanessa Wiggenraad, who co-ordinated the week at Serendip Sanctuary, said the program aligned with the organisation's Learning in Nature strategy.
"The benefit of holding a KTK event in parks is that the students can run their workshops in nature, as opposed to in a built structure.
"Through their workshops, the students can engage other students with nature and raise awareness for the plants and animals of the western plains of Victoria."