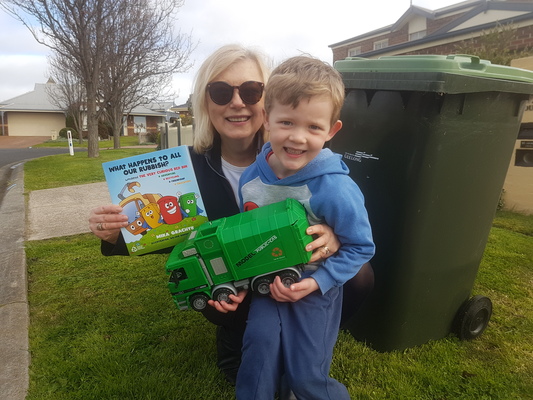 by Luke Voogt
A four-year-old Highton boy's obsession with rubbish has inspired a children's book about three adventurous wheelie bins.
For years Mika Grachyk watched grandson William gleefully join his father wheeling bins to the kerb on rubbish night.
"Otherwise the garbage truck will not have enough garbage," Will explained on Tuesday while playing with a miniature truck and bins.
Will's enthusiasm and curiosity inspired Mika's story about the three bins.
"I think there's a whole lot of mothers and grandmothers that do that," she said.
"Every time I came over he was like, 'Tell me about the red bin again'. He'd run off and wheel the rubbish bins over so they could hear the story too."
A friend encouraged Mika, who previously wrote courses for multinational companies, to publish the story.
The bins' misadventures in Mika's What Happens to All Our Rubbish taught children about responsible waste-disposal, she explained.
Will reviewed the book for the Indy, rifling through its recycled pages.
"I'm going to show you what page I like," he said.
"I like this page, I like this page and this page and that page."
Will grimaced at a page depicting a rubbish spill.
"Ew!" he exclaimed.
The book might not accurately reflect Victoria's recycling crisis but Mika hoped that was "temporary".
"Someone's got to sort it out," she said, "even roads and park benches can be made out of recycled material."
The book is available at booksgrowus.com.