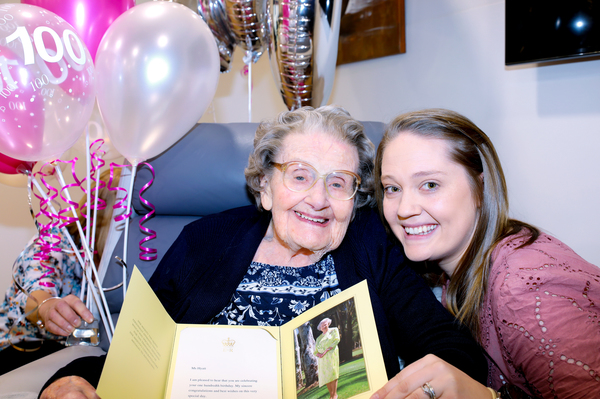 By Natalee Kerr
A Geelong grandmother who celebrated her 100th birthday this week has credited farm work for her happy life.
The eldest of three children, Muriel Hyatt left school at age 14 to work on her family's farm in Weering, 30km north of Colac.
"I wish I was back on the farm," the centenarian said, as she reflected on fond memories of milking the cows and riding farm horse Snowy.
The lifelong Geelong Cats supporter said she "loved playing football with the boys" and "going to grandmas and grandpas for Christmas" growing up.
"We used to go out in the pool and kick footballs," she said.
"I also remember we had a big plum pudding."
Muriel married husband Bill in 1943 and lived in Geelong with their three children from the 1970s where they also opened a Fyans St milk bar.
Bill passed away 26 years ago, but Muriel continued to live independently in Belmont until the age of 96.
Nowadays she resides at a nursing home where she participates in daily activities and watches the nightly news.
Muriel celebrated her 100th birthday on Wednesday, with a small gathering of family and friends.
But when she was told she would be reaching the milestone, she jokingly responded "I'm 103" followed by "I'm not having a birthday, I don't want any fuss".
Muriel said she has never experienced any health problems besides "having a cold".
"Sometimes I used to pretend I had a nasty cold to get out of school," she laughed.
"It worked for a while until they got to know me."
The 100-year-old never smoked, drank or drove, but Muriel said there was no secret to her longevity.
"I don't know how I made it to 100. I thought I wouldn't get to 100 because I had too much to do in the cow yard," she said.
Youngest grandchild Carlee, 26, said her "loving and caring" Nan always enjoyed supporting her six grandchildren and dedicated her life to looking after other people.
"Anything we did, she was there," she said.