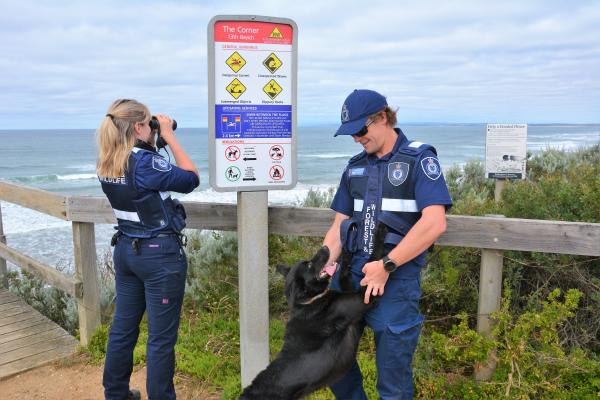 As hooded plover chicks hatch from their nests at beaches across Victoria's southwest, including the Bellarine Peninsula, conservation regulator officers are patrolling local beaches to protect the threatened species.
Officers have been patrolling shorelines near Ocean Grove, Warrnambool, Port Fairy and Portland to educate dog owners about how vulnerable the new chicks are to predators.
The hooded plover has been known to breed from Breamlea to Collendina.
"Connecting with dog owners is key to reducing attacks on these tiny chicks – many owners are interested to find out more about this threatened species, and the locations of nesting sites to keep dogs away from," Barwon South West Forest and Wildlife Officer Rob Bendon said.
"When dogs are running where the hooded plover chicks are, it's so easy for dogs to accidentally trample the chicks or get excited and chase them – and unfortunately the chicks cannot fly from potential harm."
Conservation regulator forest and wildlife officers will monitor local beaches until the end of March, when the hooded plover nesting season ends.
Officers will be encouraging dog owners to keep an eye out for hooded plovers and associated nest fencing and signage, and ensure their pets are kept at a safe distance.
The conservation regulator works with BirdLife Australia in protecting this species, as BirdLife Australia coordinates the monitoring of hooded plovers, and works to maintain safe habitats through temporary fencing, signage and artificial shelters.
The conservation regulator investigates instances and reports of dogs harassing Hooded Plovers. Significant penalties apply for dog owners whose pets destroy or disturb these birds or their nests. Under the Wildlife Act 1975, allowing a dog to attack or chase wildlife is a crime, and the offence can be subject to a fine of up to $4130.
Last month officers issued a $660 fine to a dog owner, whose dog disturbed a nesting site within a fenced off area at Anna Catherine Reserve beach at Port Fairy. Information relating to dogs chasing or harassing wildlife can be reported to Crime Stoppers confidentially on 1800 333 000.