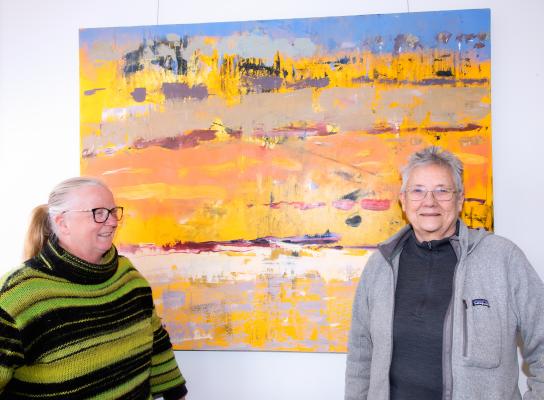 By Luke Voogt
The first live exhibition at an Anglesea gallery since COVID-19 hit in March showcases a three-year artistic journey of a novice and a master.
Painter of half a century Elaine d'Esterrre and relative newcomer Deb Elliott combine their talents in the exhibition paying homage to the scenic Point Roadknight.
On one side of the coin is Elliott, whose hat-making efforts for healthcare workers went viral after she appeared in the Independent in April.
The IT worker co-ordinated the sewing of more than 17,000 hats to help protect nurses and healthcare workers from then until August.
Elliott cast her mind back to three years ago, on the NSW south coast, when she first met d'Esterrre.
"I had seen and purchased some of Elaine's work so I was pleased to finally meet and spend some time with her," she said.
"On the last night I finally plucked up the courage to ask Elaine to teach me to paint."
Elliot had wanted to bring her photographs of Point Roadknight to life in oil on canvas.
"I came to Elaine having not painted since grade 6, with little knowledge but a huge love of colour," she said.
"The first few lessons were overwhelming as she took me through some technical stuff, some art theory and history.
"On week four we put paint on canvas. Thank goodness! I thought we were never going to get there.
"My vision of oil painting was that you took paint out of a tube and used a brush. Wrong! I have rarely used a brush.
"I paint with palette knives, trowels, scrapers, scrunched up pieces of cloth and my hands. Getting my hands into the paint is like being in kindergarten all over again."
d'Esterrre described teaching a "novice" like Deb, with a lack of drawing and painting skills but a "love of raw colour" as a joyous experience.
"[She had] a passion for the amazing array of colour at Point Roadknight," d'Esterrre said.
"It was the sense of fun and the surprise of what evolved from the paint that kept us going.
"What gave me much pleasure was, when left to her own devices, Deb would complete an inspiring painting when I wasn't looking."
"The experience has been very freeing," Elliott responded.
"I have moved from looking to Elaine for advice on every stroke of paint or colour choice to having the confidence to work on my own.
"I will always listen to Elaine but am no longer afraid to challenge what she says. She cringes when I pick up a can of shiny gold spray paint!"
The art lessons inspired a collaboration between the pair.
"This way of producing artwork is not a one-way street as gradually my palette became more colourful," d'Esterrre said.
"It's Deb's enthusiasm and preparedness to have a go at anything and jumping in the deep end that I find inspiring and motivating."
Elliott and d'Esterrre have become close friends and look forward to displaying their work together.
"By standing back we may see our strengths and weaknesses and the overlapping of different aspects and themes coming from the one subject," d'Esterrre said.
"For the viewer the artwork may appear very similar or even copied but on closer inspection differences may be revealed."
Point Roadknight opened on Wednesday and runs from 10am to 4pm each day, except Christmas Day, until December 28 at Surf Coast Shire Art Space, Anglesea.