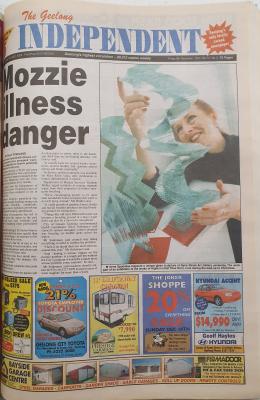 20 years ago
December 8, 2000
Huge swarms of potentially disease-carrying mosquitos have prompted warnings from authorities to remove potential breeding sites for the pest.
The warnings followed a 150 per cent jump in the amount of Ross River virus cases reported in the region since January compared to the past two years.
15 years ago
December 9, 2005
Thirteen-year-old Dylan Heaton is pictured examining handmade chimes at Barwon Heads Community Market on the weekend.
The market usually runs once a month but will open weekly in the lead-up to Christmas to capitalise on festive season sales at the corner of Hitchcock Avenue and Ozone Road.
10 years ago
December 10, 2010
Geelong's Ford workers are "nervous" about their future after a new cutback in engine production, according to a representative.
Senior shop steward Brendan Sexton said the recent departure of Geelong's Marin Burela as Ford Australia president and chief executive officer had also heightened anxieties at the North Geelong plant.
5 years ago
December 11, 2015
Campervan travellers will be welcomed to Geelong after receiving cold shoulders along the Surf Coast.
Tourism industry figures said Geelong's status as Victoria's first council to partner a new Community Welcomes Recreational Vehicles program could unlock tourism opportunities.