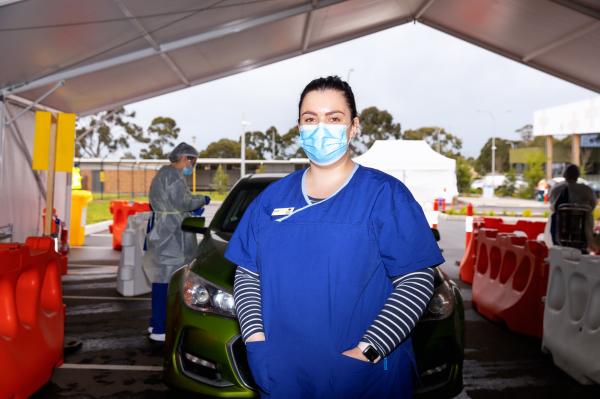 Ebony Smale is one of the many Geelong healthcare heroes helping to prevent the spread of COVID-19. She speaks with Luke Voogt about making a "small difference" amid a pandemic.
Tell us about you…
I'm 24 and I live in Leopold. I enjoy going to the gym, camping and listening to music. I was born in Warrnambool and moved to Geelong at a young age, and have been here ever since. Most of my family live in Geelong. I studied nursing at Deakin University and landed a job at Barwon Health.
What is your role in COVID-19 testing?
I started working at the Barwon Health North COVID-19 clinic when it opened and have seen it grow from a small clinic that saw less than 100 people a day to a much bigger service. I successfully applied for an associate nurse unit manager role, which I commenced just prior to the second wave. This means I complete in-charge shifts on certain days at the clinic, which involves overseeing 14 to 22 staff per day. Our biggest day so far was 828 tests and at the highest point of the second wave, we were faced with massive lines and multiple days of more than 500 swabs. The job can be challenging as COVID-19 is an ever-changing pandemic. Working at a COVID-19 testing facility has made me feel like I have had an impact during the pandemic and have been able to make a small difference. Every swab completed goes towards testing numbers in Victoria and the small amount I have completed makes me feel like I have helped.
What are your colleagues and the people you test like?
Everyone is willing to go that extra mile to get the job done while maintaining a positive attitude, in what has been a very challenging time. We have all gotten to know each other quite well and I think this has been beneficial, as we are able to support each other in this difficult time. The people we test come from all walks of life and are mostly very appreciative of what we do for them and the community as a whole. We have been gifted many cards, chocolates, coffees and care packages during the pandemic and it truly lifts the spirits of staff members each and every time. Their generosity does not go unnoticed and has been amazing to see.
What are your favourite things to do locally?
In Geelong we have so many great food and beverage options and I love visiting them with friends and family. Geelong has the best of both worlds, having the Bellarine Peninsula, Surf Coast and inland areas such as the Otways all within close proximity, as well as central Geelong and Melbourne. I'm going a bit crazy staying at home and missing my family and friends, but it has been a great opportunity to work hard, while also slowing down and enjoying the small things in life. I'm most looking forward to reuniting with friends and family, and getting away on a little camping trip when restrictions ease.
What's something about you that people might not know?
In my spare time, I love to get out of the house and go adventuring, explore new places and go four-wheel-driving. My dream is to do a complete lap of Australia and explore all this beautiful country has to offer.