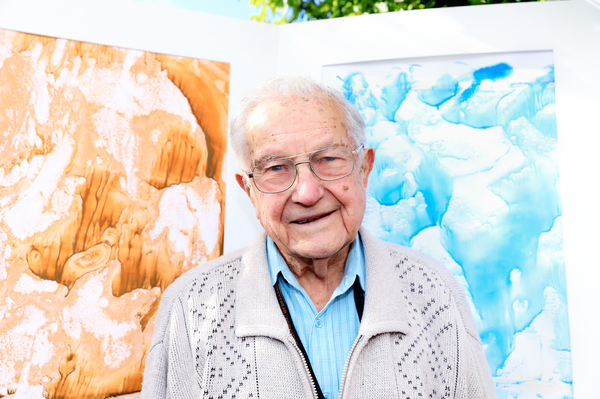 By Natalee Kerr
Geelong's Jack Bayley is on a mission to establish himself as an artist – at the age of 96.
Grandson Murray said he was helping Jack prepare a showcase of 75 paintings he created with his "heart and soul".
"I'm trying to honour the work grandpa has done that he won't take credit for," Murray said.
"He was drawn to do this work; I'm compelled to get it out in the world."
Jack began painting more than two decades ago after moving from Ocean Grove to Geelong.
He spent the past 15 years working tirelessly on his technique with acrylic paint on recycled paper.
"I stayed with it and kept doing it – I was hooked," Jack said.
Classically trained but now producing "modern" works, Jack held his first and only other exhibition aged 88 but was ready to go public again.
"I've had a feeling that there is something more in this than the average and that somebody should see it," he said.
"It's something different in the art world."
Jack's Chaotica exhibition opens today at Rachinger Gallery, McKillop St, Geelong.