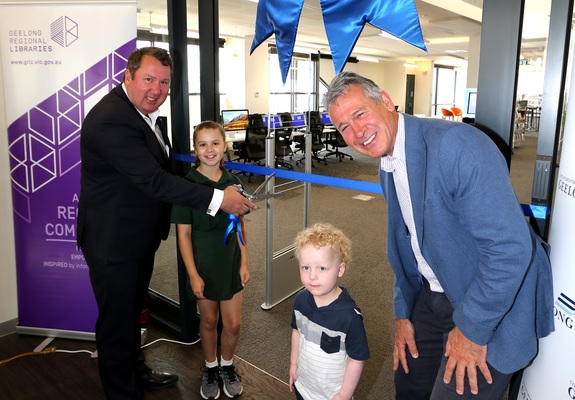 by Luke Voogt
Geelong Regional Library has recorded a deficit of $385,622 despite an extra $821,873 from Geelong's council, as wage costs rose by almost $1 million.
Wages increased $935,773 from $8.4 million 2017/2018 to $9.3 million in 2018/2019, according to the library's annual report.
But Geelong Regional Library Corporation chief executive officer Patti Manolis blamed the non-cash impact of depreciation for the overall deficit.
"This depreciation cost is due to the great level of investment by council in new libraries in recent times including Leopold Library and Geelong Library and Heritage Centre," she said.
The corporation underspent on wages by about $500,000 in 2017/2018 due to vacant positions that it had since filled, Ms Manolis explained.
"When you compare this immediate past financial year's salaries result this represents a total increase of $453,019," she said.
The increase included $282,000 in staffing costs for the recently-opened Leopold Library and a 2.025 per cent enterprise agreement salary increase, she said.
In 2016/2017 Ms Manolis received a salary of $181,000 plus superannuation and a provided car, which rose in subsequent financial years to $185,000 and $189,000, she said.
Geelong Regional Library was "in a strong financial position", she said.
"The library actually achieved a cash surplus of $1.6 million which has been re-invested into over 83,000 new hardcopy and eCollection items and new technology."
Geelong councillor Ron Nelson, who chairs the library's board, agreed the corporation's financial position was "very solid".
But in his 2017 election campaign Cr Nelson called for an inquiry into the corporation he then described as a "monolith" of bureaucracy.
"I'm just saying there's a bit of fat at the top there that perhaps we don't need," he said at the time.
Following his selection as chairman in 2017 Cr Nelson met with Ms Manolis and "undertook a detailed analysis of the organisation", he said this week.
"The board, under my chairmanship, pays very close attention to efficiency.
"Financial reporting is on the agenda at every meeting and we cover future budget development extensively as part of our annual planning meeting held in November every year."
The library ranked first in a state-wide survey for the fifth year in a row in 2018 and its membership grew 5 per cent over the past year to 130,000, Cr Nelson said.
"I am … 100 per cent behind the organisation and the important work it undertakes."
State Government funding of the corporation had declined to a "really disappointing" 13 per cent of total income, Cr Nelson said.