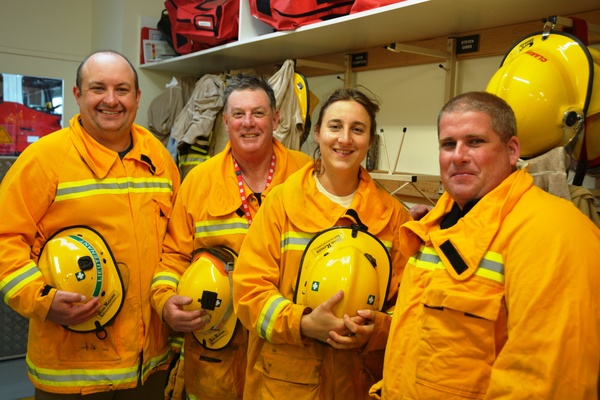 By Natalee Kerr and Justin Flynn
Hundreds of local firefighters are continuing to answer the call for help from fire-ravaged communities across the nation.
Geelong career and volunteer firefighters have been battling blazes across three states for months, according to CFA District 7 Duty Officer Commander Tony Field.
"In the last few weeks we've increased our resources to fire affected towns in Victoria's Gippsland region," he said.
"We've also sent hundreds of staff and volunteers away to assist over in Queensland and New South Wales since November."
Local strike teams of up to 28 people have been rotated every three days to give first responders a "break" and "help with fatigue", according to Mr Field.
"As the requests come in we will keep trying to assist the best we can," he said.
Ocean Grove CFA volunteers Adam Wakling and Noel Grant recently returned from fighting bushfires burning across Victoria's south-west and east.
Mr Wakling, who has volunteered with the CFA for 16 years, labelled the deployment as an "eye opening" experience.
"It's not just the fire, it's the aftermath when the trees are dropping all around you. There's no warning, they just drop," he said.
"Trees are our biggest issue without a doubt."
But Mr Wakling said crews are well trained and equipped to face the "very dangerous" situations.
"It makes our job easier because we can do what we need to do, but you've got great respect for what's going on," he said.
"Being able to help someone when they can't help themselves is very rewarding."
Fellow volunteer Mr Grant said it is a "privilege" to have served with the CFA for 14 years.
"We go into situations where we are in danger sometimes. It can be scary," Mr Grant said.
"It does break your heart sometimes, but then you get the thanks which makes you feel better."
Geelong Police are also helping with evacuation and patrol duties in bushfire affected areas, they announced this week.
Crews consisting of one sergeant and four members have been in the Wangaratta area since last weekend rotating on a four to five day deployment, police said.
Local members are set to provide assistance for a "significant" period of time as fire crews continue to battle blazes, according to police.