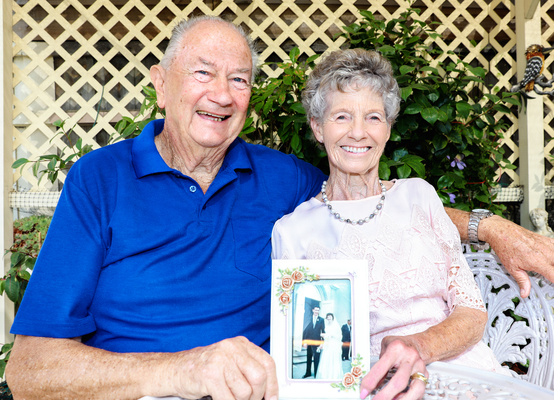 by Luke Voogt
Laurie Ansett still thinks his wife Sandra looks "a million dollars" more than half a century after he first spotted her on a Bendigo tram.
"I was looking up the other end and here's this gorgeous girl – bloody hell!" he said.
The young woman consumed his thoughts until a chance meeting at the local cafe where she worked, he told the Independent, following the couple's recent 60th anniversary.
"It was a cool place where everyone went before the movies," he said.
"It had jukeboxes and was like an American diner – exactly the same as in Happy Days.
"I sat down with her and convinced her it would be a good idea to go to the movies with me."
Sandra, then 15, was impressed with the 16-year-old "gentleman", who shouted the cab that dropped her off at home.
"He thought I was a bit of a sort," she laughed.
"He got us a taxi which was a big thing – it was pretty expensive in those days."
Over the following days Laurie stressed about getting in touch with her again.
"Eventually, the only one thing to do was to bite the bullet and knock on her door," he said.
The two bonded over their tough upbringing and shared values, and married two years later on 19 December, 1959, Laurie said.
They moved to Corio in 1969 and had two sons, including long-time Geelong councillor Tony Ansett, and five granddaughters.
Laurie credits an age-old adage for their long-lasting marriage.
"Never let the sun set on a disagreement," he said.
"If you're having a blue, like we all do, one of you has to give a bit of ground before the sun sets. And it works!"
After 60 years together, he still describes his wife as beautiful.
"She just had her hair done and she's looking a million dollars," he said, as he picked her up from Corio Village.